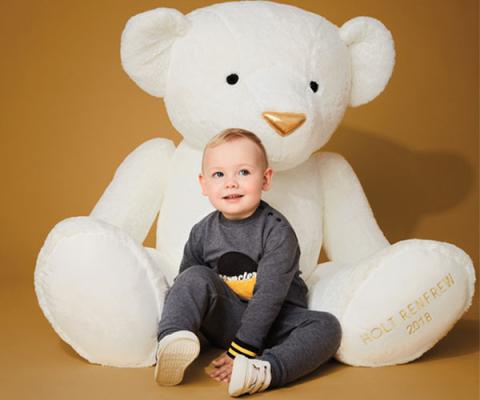 High-end Canadian retail chain Holt Renfrew will donate a portion of proceeds from its plush holiday bears towards the WWF Canada conservation organization.
The white bears, created by the Gund plush toy company, come in two sizes — small and large. Five dollars from the small's $55 price tag and $25 from the large's $425 tag will go towards the WWF.
The World Wildlife Fund's mission is to "stop the degradation of the planet's natural environment and to build a future in which humans live in harmony with nature." The Canadian arm of the organization focuses on tackling issues like climate change, conserving oceans and freshwater resources. About half of the funds WWF Canada receives gets dedicated to conservation programs across Canada, with another quarter of their funding dedicated to research and grant funding as well as awareness campaigning, with remaining funds going towards administration and fundraising expenses.
Some specific actions the WWF has taken recently include fighting for the legal protection of orca whales and helped develop a water monitoring program in Northern British Columbia and the Yukon Territory.
The bears are part of Holt Renfrew's H Project line, a product line the company has created with a mind towards using sustainable products and to creating social good.

"The H Project shops present products which may be extraordinary in a number of ways," says Holt Renfrew's Alexandra Weston, DVP, brand & creative strategy. "Perhaps it is the artisanal method with which they are made, the unique materials used, or the way they might celebrate a culture. All products are socially responsible and are creating positive change in the world."
Some other products in the line include holiday cards, soaps, towels, throws, watches and knit hats.
(Please support Samaritanmag's original journalism by making a PayPal contribution or EMT transfer using  info@samaritanmag.com so we can increase the amount of content and writers we hire. Samaritanmag is the anti-tabloid, covering good people trying to change bad things. Let's make this thing bigger than TMZ.)
『アディダス』に分類された記事一覧