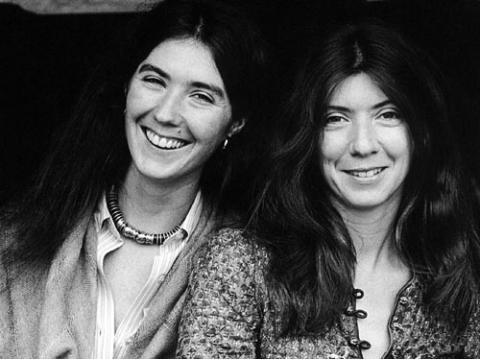 A grant program has been set up in name of late Canadian music legend Kate McGarrigle to help support cancer patients and cancer survivors pursue music-making.
The recently announced Music As Healing grant program will be administered through Stand Up To Cancer Canada's Kate McGarrigle Fund and will provide grants of $2,500 USD ($3,2980 CAD) each to up to 10 different creators who've been directly affected by cancer for the express purpose of making music.
Kate McGarrigle was one half of the renowned folk-singing sister duo Kate & Anna McGarrigle. She died in 2010 at age 63 from clear-cell sarcoma cancer. The McGarrigles are arguably one of Canada's foremost musical families. Kate is the mother to prominent musicians Martha and Rufus Wainwright and was married folk singer Loudon Wainwright III.
Martha Wainwright will serve as the music director for the Music As Healing program. Rufus Wainwright and musical director Rickey Minor will also be part of the selection committee.
"Music was a constant, a natural extension of daily life for our mother, who was often described as a luminous singer," said Martha Wainwright in a statement. "I'm hoping that Music As Healing extends her legacy by illustrating through the songs that will be recorded, and through the listening experience of cancer patients, survivors and their loved ones, how music can provide a bright, shining light through the darkness that can accompany a cancer diagnosis."
Stand Up To Cancer Canada (SUT2C) raises funds to support collaborative cancer research teams as well as education and awareness programs conducted in Canada. One of the key things SUTCC does is provide funding support for "dream teams," multi-disciplinary, multi-institutional and collaborative groups of scientists who work on groundbreaking cancer research projects.
"SU2C has been focused on ending cancer as we know it, through research into prevention, diagnosis and treatment," said SU2C chief executive officer Sung Poblete. "Music As Healing provides SU2C the opportunity to collaborate with Martha Wainwright and Rufus Wainwright to celebrate music's potential to heal, while raising funds needed for sarcoma research."
Rufus and Martha Wainwright also recently hosted a Christmas party concert event in London, England to raise money for cancer patient music therapy.
 
Music As Healing will be accepting funding applications until March 2, 2020.
Watch Stand Up To Cancer Canada's video
J Balvin x Air Jordan 1 High OG Multi-Color/Black-Pink Foam For Sale