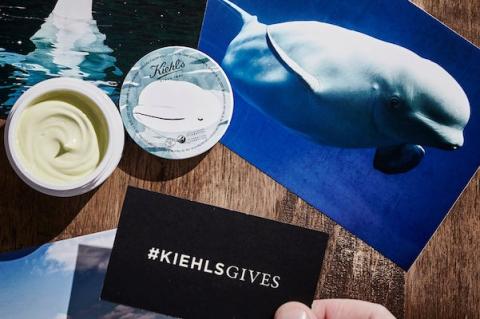 For the next 12 days, incorporating creamy, moisturizing eye treatments to your beauty regime may have a bonus secondary benefit — helping the Beluga whale.
Between now and Earth Day on April 22, cosmetics company Kiehl's will be selling a Limited Edition Creamy Eye Treatment with Avocado where 100 percent of the profits up to $10,000 will go towards the Canadian Wildlife Federation (CWF) for the purposes of funding marine conservation efforts along Canada's coastlines.
There are seven different groups of Beluga whales across Canada and some of these populations are at-risk. For example, the whales in the St. Lawrence River encounter high pollution levels contaminating their food supply in addition to the dangers of industrial activity like shipping and dredging. The money collected by Kiehl's will help create solutions to symbolically adopt and preserve the safety of 350 Belugas.
Formed in 1962, CWF works on a national level to support programs in conservation science, education, and advocacy, all with the goal "to conserve and inspire the conservation of Canada's wildlife and habitats for the use and enjoyment of all."
To incentivize those looking to combine well-moisturized eyes with conservatism, Kiehl's is also running a contest where you can win a trip for two to go whale watching in Tadoussac, Quebec, where the the Saguenay and St. Lawrence rivers meet. Entry to the contest closes on April 22.
The eye cream, which costs $36 for 15ml or $58 for 28ml, uses avocado oil, "our #1 customer favorite eye treatment," according to Kiehl's, to moisturize the delicate areas around the eyes. A limited number of those who purchase the large version of the cream in-store will also receive their own "Beluga Adoption Kit," which includes a plush Beluga doll as well as an adoption certificate.
The Kiehl's partnership with the Canadian Wildlife Federation is just one of many initiatives the company does under its philanthropic Kiehl's Gives banner. Globally, the company focuses on three areas — HIV/AIDS research, environmental issues and children's well-being — and has donated $3.5 million US ($4.5 million CAD) to related causes throughout the company's history.
adidas Yeezy Boost 350