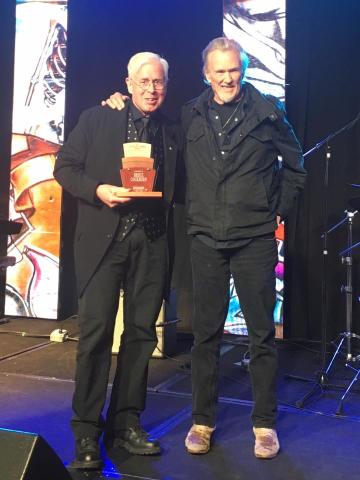 Bruce Cockburn will need to clear some space on the proverbial mantel. On Wednesday (Feb. 15), the legendary Canuck singer/songwriter and activist received the inaugural People's Voice Award from U.S.-based non-profit Folk Alliance International.
The award, presented to the San Francisco-based Cockburn in Kansas City, Missouri by no less a towering talent than Kris Kristofferson, recognizes "an individual who has unabashedly embraced and committed to social and political commentary in their creative work and folk music career."
Indeed, the long-standing Folk Alliance International (a.k.a. the FAI and founded in 1989) could not have chosen a better torch-bear for its advocacy, professional development and networking initiatives than Cockburn.
His 40-year career has consistently highlighted environmental, social, and indigenous issues globally on behalf of such diverse NGOs as Oxfam, the UN Summit for Climate Control, Amnesty International, Doctors Without Borders and Friends of the Earth.
With some 30 albums spanning folk to jazz to rock, the 71-year-old Ottawa-born musician has drawn deep from his travels through Africa, Asia and the Americas, offering first-hand testimonials on environmental and social plights. 
Speaking of that crowded mantel, Cockburn is also the recipient of 13 Juno Awards, the Allan Waters Humanitarian Award (in 2006), nine honorary doctorates, the Governor General's Performing Arts Award for Lifetime Artistic Achievement (1998), and the Queen Elizabeth II Diamond Jubilee Medal (2013).
He has been inducted into the Canadian Music Hall of Fame (2001), and is an Officer of the Order of Canada, a promotion he received in 2003 after first being awarded the Order of Canada in 1983. Pacing the Cage, a documentary film about his life, music, and politics was released in 2013. His memoir, Rumours of Glory, was published by Harper Collins in 2014.
Oh yes, and then there's the seven million albums Cockburn has sold worldwide since his 1970 self-titled debut, notably Humans from 1980 (see the singles "Rumours of Glory" and "Tokyo"); Stealing Fire from 1984 ("If I Had a Rocket Launcher," "Lovers in a Dangerous Time"); and most recently, 2011's Small Source of Comfort.
In an interview with Rolling Stone in 1985, after observing the horrors of refugee camps along the Guatemalan-Mexican border, the normally pacifist Cockburn confirmed that he went back to his hotel room, cried, and wrote in his notebook, "I understand now why people want to kill."
The experience led him to write "If I Had a Rocket Launcher" from the above-mentioned Stealing Fire. It remains one of Cockburn's best known and most iconic songs. 
"We can't settle for things as they are," the straight-shooting Cockburn has said. "If you don't tackle the problems, they're going to get worse."
In addition to Cockburn's People's Voice Award, the FAI also presented the first-ever Clearwater Award in Kansas City this week, feting "a festival that prioritizes environmental stewardship and demonstrates public leadership in education and sustainable event production."
The winner? Its namesake organization, the Clearwater Festival, dedicated to celebrating and preserving New York's Hudson River, now in its 50th year and recognized as one the world's largest and most proactive environmentally focused cultural events.
Jordan Ανδρικά • Summer SALE έως -50%