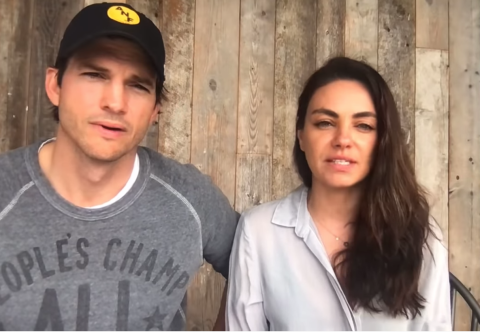 Acting couple Mila Kunis and Ashton Kutcher have created the Stand With Ukraine GoFundMe fundraiser and will match up to $3 million in donations.
The campaign has set a goal of $30 million and had reached $16.52 million from more than 42,000 donors as of March 6, just days after it started.
Kunis was born in Chernivtsi, Ukraine in 1983 and her family moved to the United States in 1991.
"Ukrainians are proud and brave people who deserve our help in their time of need," Kunis said on the GoFundMe page. "This unjust attack on Ukraine and humanity at large is devastating and the Ukrainian people need our support."
Kunis and Kutcher posted this video to launch the campaign and another video two days later to provide an update on its progress.
The money will be used to support refugee and humanitarian aid efforts and will benefit Flexport.org and Airbnb.org, two organizations that are actively on the ground providing immediate help to those who need it most.
Flexport.org is organizing shipments of relief supplies to refugee sites in Poland, Romania, Hungary, Slovakia and Moldova.
Flexport.org's mission is to make logistics a positive force for social and environmental impact. Its technology tools and expertise empower companies to de-carbonize their supply chains and offer supply chain programs dedicated to mission-driven organizations.
Flexport.org has partnered with hundreds of humanitarian aid organizations to deliver more than 7.5 million kilograms of relief supplies to more than 60 countries since 2016. Shipments funded by the Flexport.org Fund have reached more than 100 million people around the world.
Airbnb.org is providing free short-term housing to refugees fleeing Ukraine.
Airbnb.org is a non-profit organization dedicated to facilitating temporary stays for people in times of crisis around the world. It operates independently but leverages Airbnb, Inc.'s technology, services and other resources at no charge to carry out its charitable purpose.
The program focuses on emergency response and has provided stays to evacuees, relief workers, refugees, asylum seekers and frontline workers fighting the spread of COVID-19. Hosts have provided accommodations to 100,000 people since 2012.
Airbnb, Inc. doesn't charge service fees for Airbnb.org-supported stays on its platform.
Money donated to the Stand With Ukraine fundraiser will be managed by GoFundMe.Org, an independent non-profit organization registered in the United States.