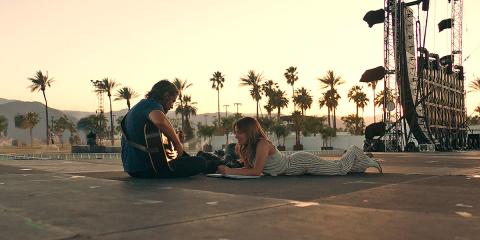 Samaritanmag, on assignment for Billboard at the Toronto International Film Festival, took the opportunity at a press conference today (Sept. 9) for A Star Is Born to ask Lady Gaga her view on the obligations of managers, label people, publicists, assistants, even family, given that we've lost so many artists — young and veterans — to addiction.
The Bradley Cooper-directed A Star Is Born, the third remake of the classic film about a booze-addled celebrity (Cooper as Jack) on a downward spiral and the talented neophyte (Gaga as Ally) he mentors and falls in love with, is one of the most authentic films ever made about being in a band and the demons that sometimes accompany an artistic mind. The film comes out in theatres Oct. 5.
"What would be wonderful, not just for artists, but for the whole world, is that we intervene early in life when we see people struggling," Gaga said.
"I think that fame is very unnatural. And we see that Jack is struggling is this film. There's substance abuse. There's trauma. Ally also, I believe, for me, she's suffered from depression at the beginning of the film, not believing in herself. I think that it's important that we guide artists and take care of them on a psychological level as they begin to rise because everything changes.
"The truth is people think that we change but It's not us that changes; it's everyone around us that changes," she continued.
"And if we could be more careful with the human spirit, not just for the artist but for everyone, I think that intervening early, teaching people about kindness, teaching people about compassion, teaching people about how to reach out and be there for someone — even when they don't even know that they're sad; it might be so deep that they can't even pinpoint it – I think that's very important and I think it's something that's touched on in this film as well."
Gaga, whose real name is Stefani Germanotta, has her own non-profit with her mother, Cynthia.
Formed in 2011 the Born This Way Foundation is "committed to supporting the wellness of young people, and empowering them to create a kinder and braver world." With a focus on improving the mental health for young people, the Foundation uses on-the-ground research from young people to help build towards their cause.
In 2016, Lady Gaga spoke out about her own mental illness in an interview with the Today show on NBC:
"I told the kids today that I suffer from a mental illness," she said. "I suffer from PTSD. I've never told anyone that before, so here we are. But the kindness that's shown to me by doctors as well as my family, and my friends, it's really saved my life."
She said: "I have a mental illness, and I struggle with that mental illness every day."
(Please support Samaritanmag's original journalism by making a PayPal contribution using the email info@samaritanmag.com so we can increase the amount of content and writers we hire. Samaritanmag is the anti-tabloid, covering good people trying to change bad things. Let's make this thing bigger than TMZ.)
Air Jordan 1 Low Atmosphere Grey/White-Black For Sale