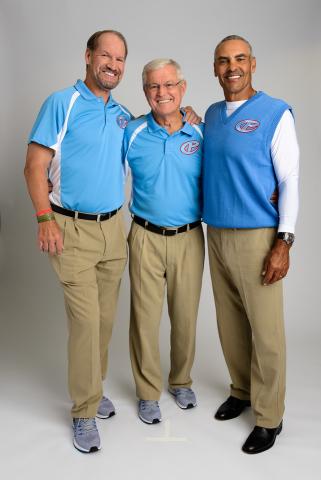 Get screened. That is the coachable message to men from The National Football League Alumni Association (NFLA) and Cancer Treatment Centers of America® (CTCA) in series of public service announcements called the Prostate Pep Talk, to coincide with September's Prostate Cancer Awareness Month.
With Movember, November's men's health care movement around the corner, this is a PSA that should continue to be circulated — and year-round.
Prostate cancer is the second most common cancer among men in the U.S., according to the American Cancer Society.  In Canada, it is the most common cancer among men (excluding non-melanoma skin cancers), according to the Canadian Cancer Society.
Legendary NFL coaches Herm Edwards, Dick Vermeil, and Bill Cowher appear in the PSAs to raise awareness of prostate cancer risks and encourage men to get screened for the disease.
During a virtual press conference on Aug. 29, Edwards, Vermeil and former Philadelphia Eagles quarterback Ron "Jaws" Jaworski, (current ESPN analyst and NFLA chairman), shared their personal stories.
"I know several colleagues and friends who have been diagnosed with prostate cancer," Edwards said. "First, the former owner of the Kansas City Chiefs, Lamar Hunt, who sadly lost his fight, and my father-in-law who was diagnosed eight years ago and had prostate surgery.  So, we're hoping this campaign will raise men's awareness of the need to get screened."
In America, nearly one in seven men will be diagnosed with prostate cancer. African-American men are 60 percent more likely to be diagnosed.
The American Cancer Society estimates that 181,000 new cases of prostate cancer will be diagnosed in the U.S. in 2016. The Cancer Society of Canada
Estimates 24,000 men will be diagnosed with the disease.
"African-American men are disproportionately affected by prostate cancer," said Sean Cavanaugh, MD, chief of radiation oncology at CTCA, at Southeastern Regional Medical Center in Atlanta.  "Although the reasons for the disparity have not been positively identified, it is believed that a combination of genetics, lifestyle, and the quality and frequency of medical care all play a role.
"What we do know is that screening is the first defense against prostate cancer. That's why we are proud to partner with the NFLA to raise awareness about the importance of screening, as well as advances in screening techniques, diagnosis and treatment options for prostate cancer."
How to Run Faster , Increase Your Running Speed and Endurance