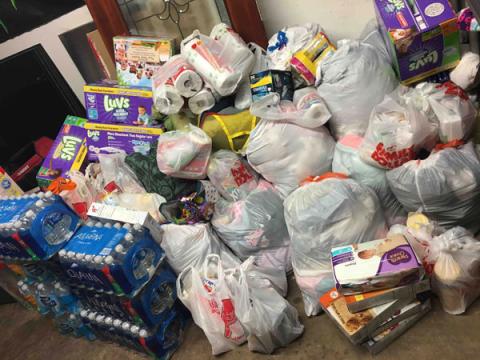 A New Orleans-based educator has raised more than $37,000 US ($47,900 CDN) from over 900 people in a campaign to help those affected by the destructive flooding that has recently crippled parts of Louisiana.
Rubia Garcia started the Louisiana Strong GoFundMe page on Aug. 14 with a goal of raising $20,000 US for flood victims and upped it to $40,000.. Garcia intends to use the money to purchase "everyday items" for those affected — things people "take for granted" like toothpaste, toothbrushes, combs, baby wipes, deodorant, soap, shampoo, sanitary napkins, diapers, socks, razors, water, hand sanitizers and energy bars.
On the Louisiana Strong page, Garcia says it was her experience in dealing with the aftermath of Hurricane Katrina in 2005 that motivated her to help.
"I will gladly dedicate my free time and effort to those in need here in Southeast Louisiana because more than anything I remember the feeling in my heart when I saw perfect strangers going out of their way to help my family, friends, and community after the devastation of Hurricane Katrina," wrote Garcia. "Some people have lost everything."
The recent flooding that has affected Louisiana is being considered the most serious disaster the state has faced since Hurricane Katrina in 2005 and the worst natural disaster to hit the U.S. since Hurricane Sandy in 2012.
On Aug. 16, the series of heavy rainfalls and floods struck the southeastern U.S., including more than 31.39 inches in one 24-hour period in Watson, just northeast of Baton Rouge, according to the Weather Prediction Center. Officials have been calling the flood a once-in-500-years-level event. Thirteen deaths have been attributed to the flooding, along with 60,000 damaged homes, more than $30 million in damages as well as evacuations of 12 separate parishes, according to figures reported by the Louisiana Governor's Office of Homeland Security and Emergency Preparedness and the Red Cross. The National Guard and Coast Guard say they have shepherded more than 20,000 people and 1,000 pets to safety from dangerous flood regions.
Men Nike Footwear