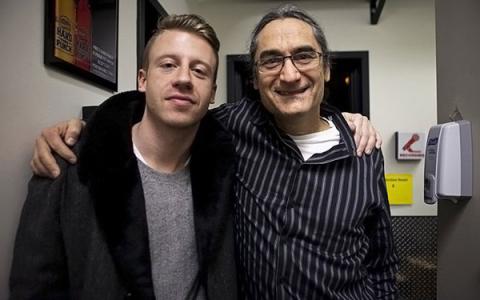 Macklemore, R.E.M.'s Peter Buck, Pearl Jam's Jeff Ament and Julien Baker were among the musicians who contributed to influential Seattle public radio station KEXP's recent "Music Heals: Addiction & Recovery" programming event.
The station hosted a full 15 hour block of programming on May 24 dedicated to stories of addiction and recovery from high-profile musicians, KEXP staff and listeners.
Macklemore, the Grammy Award-winning rapper behind such hits "Glorious" and "Good Old Days," had a history of binge drinking and an addiction to OxyContin.
"You're not alone in your struggle," he told KEXP. "There are recovery communities all around the world that are there for you, that need you. We need each other in this fight against addiction. We need to hear that experience of what it's like right now to keep us who are currently in recovery sober."
Buck, whose musical resume goes beyond R.E.M. to also include acts like Arthur Buck, The Minus 5, The Baseball Project and Filthy Friends, explained how he came to his drug-free lifestyle.
"I hate that word 'sober.' Sober as a judge," said Buck. "I decided that I was in a place in my life where I needed to focus on the things that were really important and any substance wasn't important to me. I think the things you think you can handle when you're younger change. I'm not 25 anymore. I kind of looked around and decided, 'Well, what is important in my life?' And alcohol and drugs or whatever weren't on the list. It's family, friends, music. That's it. That's all I really do. And that's all I really want to do."
Baker, a Pitchfork-endorsed alt-rocker, used her time to discuss her friends in the Memphis music scene who helped her through her addiction.
"They cared about me when I had nothing to offer, and that destroyed the paradigm of what I thought relationships were because I had nothing to offer them," said Baker. "I was actually quite rude and had zero money ever and they picked me up on the side of the road and asks zero questions about why I was there and made sure I was able to be safe and feel safe emotionally, too."
In addition to presenting very personal stories of addiction and recovery, KEXP also used the themed day to acknowledge organizations who are helping those in need. Some of the specific groups the station endorsed during their Music Heals event included Crisis Clinic, a suicide prevention clinic, the Washington Recovery Helpline for substance abuse, problem gambling and mental health issues, WA State DSHS Division of Behavioral Health and Recovery, University of Washington Alcohol and Drug Abuse Institute as well as the university's Social Development Research Group, and the music industry charity MusiCares.
"Addiction isn't a personal choice or failing, but the shame and the stigma associated with it keeps many people from getting the help they need," said KEXP's Chief Content Officer and Afternoon Show host Kevin Cole. "Music Heals: Addiction and Recovery will be dedicated to providing information and resources about addiction and letting listeners know that they're not alone, that it's okay to ask for help, and that there's a community of people in recovery ready to welcome and support them on your path to health. We aspire to uplift, inspire, and provide hope."
KEXP has used the "Music Heals" banner to tackle other meaningful subjects in the past, including a spotlight on mental health organizations and a look at the impact of cancer on the music community.
Air Jordan 1 Mid "What The Multi-Color" For Sale