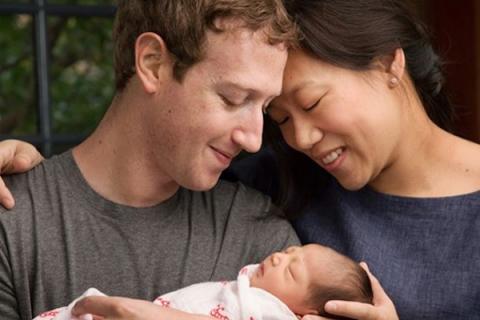 Facebook creator Mark Zuckerberg announced yesterday he's divesting himself of 99 percent of his shares in the company towards good causes.
Estimated at a worth of approximately $45 billion U.S. ($60.19 billion CAD), Zuckerberg is redirecting the shares to celebrate the birth of his first daughter Max yesterday by his wife Priscilla Chan.
In an extended open letter directed to Max which Zuckerberg posted on his Facebook page, he explained how his money would be directed to education, science, health and community building initiatives designed to make the world a better place.
"Priscilla and I are so happy to welcome our daughter Max into this world!" Zuckerberg wrote in the letter's introduction.

"For her birth, we wrote a letter to her about the world we hope she grows up in.

"It's a world where our generation can advance human potential and promote equality — by curing disease, personalizing learning, harnessing clean energy, connecting people, building strong communities, reducing poverty, providing equal rights and spreading understanding across nations.

"We are committed to doing our small part to help create this world for all children. We will give 99% of our Facebook shares — currently about $45 billion — during our lives to join many others in improving this world for the next generation.

"Thank you to everyone in this community for all your love and support during the pregnancy. You've given us hope that together we can build this world for Max and all children."

Many of these future plans will likely be spearheaded by the Zuckerberg Chan Initiative, an organization created by Zuckerberg and Chan in 2009 to "advance human potential and promote equality in areas such as health, education, scientific research, and energy." Note, this is not set up as a charity.
Some of the questions they hope to answer, which Zuckerberg outlines in his letter to his newborn daughter, include:
"Can our generation eliminate poverty and hunger?
"Can we provide everyone with basic healthcare?
"Can we build inclusive and welcoming communities?
"Can we nurture peaceful and understanding relationships between people of all nations?
"Can we truly empower everyone — women, children, underrepresented minorities, immigrants and the unconnected?"
Zuckerberg and Chan had foreshadowed this big gesture in a video they made leading up to Max's birth which was posted on the Zuckerberg Chan Initiative Facebook page yesterday.
In the video Zuckerberg and an expecting Chan, outlined some of their thinking.
"Having this child has made us think about all of the things that should be improved in the world for her whole generation," said Zuckerberg. "The only way that we reach our full human potential is if we're able to unlock the gifts of every person around the world."
"We need to make sure that there are investments in programs that ensure the future isn't going to be like today, the future is going to be better than today," Chan continued. "We're expecting our girl any day now and we want her to have the benefits of an entire generation that is able to take advantage of all that we're able to create "
The goal, according to Zuckerberg, is simply to improve the world for his daughter.
"She and everyone in her generation really should be able to live much better lives than we can in all these ways and I hope that not just our child but everyone in our community has an opportunity to go on and have an even bigger impact in the world," he said. "I think she'll get there."
Watch the video:
A few weeks before Max's birth, Priscilla and Mark took a morning to reflect and record their hopes for their daughter and all children of her generation.

Posted by Chan Zuckerberg Initiative on Tuesday, December 1, 2015
The world is yours – Neue Sneaker, Apparel und mehr für Kids