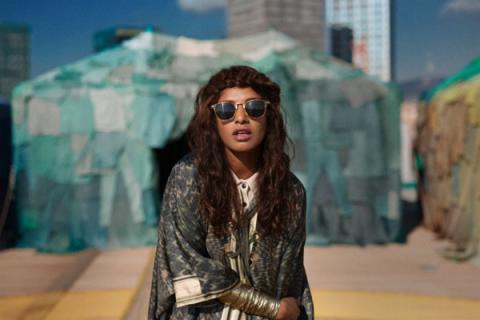 Rap rebel M.I.A. is encouraging people to recycle their old clothes with the release of new video "Rewear It."
The M.I.A. video is part a partnership with retail clothing chain H&M to promote their upcoming #WorldRecycleWeek initiative happening April 18-24. That week, anyone who brings their old garments — in any condition — to one of the 3,600 H&M locations worldwide will receive a voucher to use at the store. H&M hopes to collect 1,000 tonnes of textiles from the initiative, which the company will then process to create recycled fibers for new products.
"World Recycle Week is about embracing important environmental issues such as the landfills, and highlighting a global movement," said M.I.A., real name Mathangi 'Maya' Arulpragasam, in the H&M press release.
The video for "Rewear It," which was choreographed by Aaron Sillis (Rihanna, Katy Perry, Justin Bieber), features M.I.A. dancing and singing atop a mini-tower of textiles and in front of a group of technicolour yurts, all while footage from a cast of dancers from around the world is interspersed throughout the video. Since debuting on April 11, the video has already received 214,000 views on YouTube.
H&M says they've collected 25,000 tonnes of textiles since they began collecting old clothing in 2013. It's part of the company's goal to promote a responsible recycling system where all old clothes gets reused and recycled instead of put in landfills.
In an explanatory video put out by the company, H&M broke down what happens to the donated clothes. The best items get distributed to second-hand goods stores, worn items get converted into things like rags, cleaning cloths or industrial products like insulation, and other fabrics get ground into fibre, spun into yarn and woven into new products. H&M says 99 percent of the donated products are eventually reworn in some form using this system.
Watch M.I.A.'s "Rewear It" video
PEACEMINUSONE x Nike nike zoom air insoles for shoes amazon "Para-Noise 2.0"