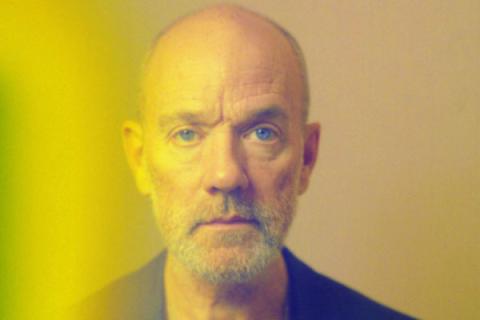 Former R.E.M. lead singer Michael Stipe has released his first-ever solo single "Your Capricious Soul."
Proceeds from the song are going towards emerging environmental movement, Extinction Rebellion.
"I took a long break from music, and I wanted to jump back in. I love 'Your Capricious Soul' — it's my first solo work," said Stipe. "I want to add my voice to this exciting shift in consciousness. Extinction Rebellion gave me the incentive to push the release and not wait. Our relationship to the environment has been a lifelong concern and I now feel hopeful — optimistic, even. I believe we can bring the kind of change needed to improve our beautiful planet Earth, our standing and our place on it."
Started in October 2018, Extinction Rebellion is dedicated to "non-violent civil disobedience to achieve radical change in order to minimise the risk of human extinction and ecological collapse." The emerging organization says it has three major demands:
* Governments tell the truth about the state of the current climate emergency and act towards change. * Governments must act towards reducing greenhouse gases to zero by 2025. * Governments must allow "citizens assemblies" — non-partisan, fairly organized groups of the general public, chosen in a manner similar to juries — on climate and ecological justice. The findings of these assemblies would be used to bypass the frequent ecological justice roadblocks created by politicians and businesses.
A number of high-profile musicians, including British alternative act Radiohead, have made a point to support Extinction Rebellion.
The new song marks Stipe's return to music after a lengthy absence. Little had been heard from the singer since his former band R.E.M. released the Collapse Into Now album in 2011.
Visitors to Stipe's website have the option to download the single for free or make a pay-what-you-like donation to Extinction Rebellion to receive a fuller digital package, including a master-quality audio version of the song, Stipe's lyric document, a print-ready poster, a stencil, an animated flip-book portrait and the song's video, which was produced by Sam Taylor-Johnson (Fifty Shades of Grey, Nowhere Boy).
This is far from the first time Stipe or his former band R.E.M. have supported environmentally-related causes and organizations. The band didn't tour for their hugely successful 1992 album Automatic For The People, instead playing a single benefit show in their hometown Athens, Georgia to support Greenpeace. The band also contributed to Greenpeace's high-profile Alternative NRG compilation album.
Watch "Your Capricious Soul"
GOLF NIKE SHOES