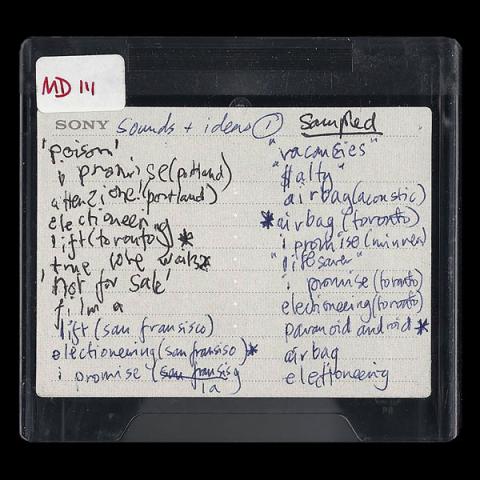 British alternative rock band Radiohead have turned getting hacked into an opportunity to combat the current climate crisis.
The band announced recently that a hacker had accessed 18 hours of lead singer Thom Yorke's musical archives recorded around the period of the band's Grammy Award-winning 1997 album OK Computer. If the band didn't pay the hacker $150,000 they threatened to release the archives to the public. Instead of giving in to hacker's demands, the band released the entire set of archives for sale on their Bandcamp page for £18 ($30.14 CAD) with all proceeds going towards environmental group Extinction Rebellion.
"We got hacked last week - someone stole Thom's minidisk archive from around the time of OK Computer, and reportedly demanded $150,000 on threat of releasing it," wrote guitarist Jonny Greenwood on Radiohead's Facebook page. "So instead of complaining - much - or ignoring it, we're releasing all 18 hours on Bandcamp in aid of Extinction Rebellion. Just for the next 18 days. So for £18 you can find out if we should have paid that ransom. Never intended for public consumption (though some clips did reach the cassette in the OK Computer reissue) it's only tangentially interesting. And very, very long. Not a phone download. Rainy out, isn't it though?"
Started in October 2018, Extinction Rebellion is dedicated to "non-violent civil disobedience to achieve radical change in order to minimise the risk of human extinction and ecological collapse." Operating primarily in the United Kingdom, the organization says it has three major demands:
* Governments tell the truth about the state of the current climate emergency and act towards change.
* Governments must act towards reducing greenhouse gases to zero by 2025.
* Governments must allow "citizens assemblies" — non-partisan, fairly organized groups of the general public, chosen in a manner similar to juries — on climate and ecological justice. The findings of these assemblies would be used to bypass the frequent ecological justice roadblocks created by politicians and businesses.
Some of the organization's actions so far have included blocking major London roads during rush hour, disrupt protests at London's Heathrow Airport, and conducting rogue tree planting events.
Extinction Rebellion says it needs 3.5 percent of the U.K. population — approximately 2 million citizens — to commit to their cause in order for their movement to succeed.
Radiohead fans have been diving deeply into the extensive blocks of material, crowdsourcing and creating pages to notarize the material contained in these archives.
Watch Extinction Rebellion's thank you message to Radiohead
Yeezy Release Dates 2020