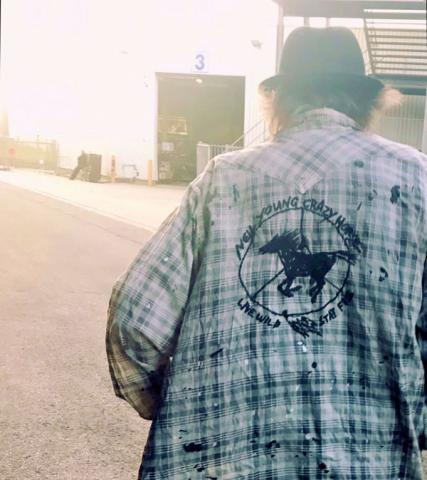 Neil Young's new Colorado album with backing band Crazy Horse is being used as a catalyst for the musician to help some wild horses.
Considered by many to be the godfather of grunge music, the frequently flannel-clad rocker has released a charitable line of flannel shirts to support two causes dedicated to America's wild horses, funding the Skydog Sanctuary as well as a legal challenge against the U.S. Department of the Interior's Bureau of Land Management research plan to spay wild horse mares.
The $300 USD ($397 CAD) limited edition "Crazy Horse Magnolia Pearl" flannel shirts features a horse scrawl drawing over a peace sign logo with the words "Neil Young Crazy Horse" wrapped around the top of the peace sign and "Live Wild Stay Free" along the bottom.
The shirts were available for sale at select recent screenings of Mountaintop, Young's documentary about recording Colorado. They're now available at Young's online store.
"My beautiful wife Daryl (Hannah) has been talking to me about herds of wild horses for years now as we travel across the country together," wrote Young on his archive site. "She reflects on their beauty and natural grace so much as we cruise by in Lincvolt or our bio diesel bus that I can see them running across the prairie in my minds eye. That's just a memory.
"Our government is killing the wild horses to make way for more cows, more oil exploration, more greed. We must rise and take all these things on. If you are older like me it's easy to see these changes in our life. If you are young or old, keep your eyes open and do whatever you can for Earth and her wild creatures. This is our Earth."
"Wild horses are living icons of the West, the ultimate renegades who symbolize freedom like the eagle and the buffalo," says a separate post on the Neil Young Archives website about the shirts. "The wild mustangs rights to stay wild and live free are being whittled away, as they are now subjected to artificially imposed herd size limits, brutal round ups, inhumane spay and neuter experimentation and more, all due to private livestock, oil, gas and mining interests on our public lands!

"100% of funds raised from these shirts will go towards efforts to keep America's Wild horses naturally wild and free!"
Founded in 2016, the Skydog Sanctuary's mission is "to save mustangs and burros in need, bring them to safety and sanctuary and to raise awareness for wild horses and donkeys in America." With properties in Malibu and Mariposa, California as well as a 9,000 acre ranch in Bend, Oregon, Skydog says it has helped more than 100 wild horses and burros be saved from precarious situations like kill pens, auctions and neglectful homes.
The other half of proceeds raised from the horse flannel will go towards legal actions against the Bureau of Land Management (BLM) on behalf of organizations such as the Animal Welfare Institute (AWI) and The Cloud Foundation (TCF). These groups are arguing the BLM's plans to forcibly sterilize wild horse mares and round up entire wild horse populations in southeastern Oregon.
Colorado is Young's 39th studio album and first with Crazy Horse as his backing band since 2012.
(Please support Samaritanmag's original journalism by making a PayPal contribution or EMT transfer using  info@samaritanmag.com so we can increase the amount of content and writers we hire. Samaritanmag is the anti-tabloid, covering good people trying to change bad things. Let's make this thing bigger than TMZ.)
Watch a Skydog Sanctuary reunion story
Nike SB