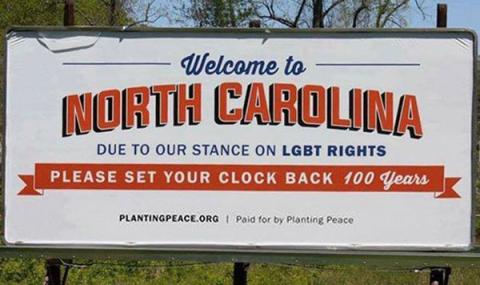 A peace organization is fighting North Carolina's hateful HB2 "Bathroom Bill" in a hard-to-miss-way — via a large highway billboard contemning the bill and its stripping of LGTBQ rights and protections.
Placed by the roadside near Hendersonville, North Carolina right where the North Carolina and South Carolina border meet, a billboard created by Planting Peace states: "Welcome to North Carolina. Due to our stance on LGBT rights please set your clock back 100 years."
The controversial HB2 bill is designed to prevent North Carolina cities and local governments from creating laws that protect gay and transgender people from discrimination. Colloquially, the bill is about preventing a transgender person who, say, transitioned from male to female, to use female restroom facilities. Really, though, HB2 is a legal attempt to eliminate these people's equal rights.
Bruce Springsteen cancelled his concert in North Carolina to protest the bill.
In a statement on the Planting Peace website the organization explained the reason for putting up the billboard:
"When North Carolina and other legislators pass anti-LGBT laws and speak anti-LGBT rhetoric, they are sending a direct message to our LGBT family that they are somehow less than, broken, and not equal under the law. These messages reflect why suicide rates among the LGBT community are so high. It's estimated that half of transgender people contemplate suicide.

"In response to North Carolina passing of HB2, Planting Peace has constructed a message to North Carolina legislators and the anti-LGBT movement.

"Our billboard is a reminder that laws such as HB2 move us backwards in the movement for equality and fundamental human rights for all. It is also meant to show the LGBT community and North Carolina that advocacy groups such as Planting Peace and others are willing to fight."
Planting Peace's stated mission is "to spread peace in a hurting world." Some of the organizations key initiatives including having dewormed 15.7 million starving children around the world, operating a network of orphanages and safe havens, having planted more than one million trees, and having purchased and protected 624 acres of Peruvian Amazon rainforest.
Additionally, the organization has been far from shy about confronting hate groups. One of Planting Peace's most visible initiatives is Equality House, a rainbow coloured, pro-gay pride home the organization purchased in Topeka, Kansas directly across from the Westboro Baptist Church hate group, who are known for protesting soldiers funerals, being anti-semitic, and promoting the death penalty for gay Americans.
Supreme