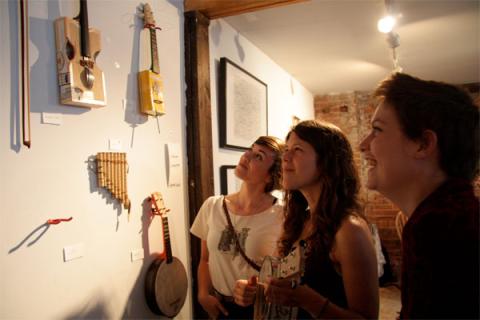 The grating drill of jackhammers are threatening to overtake Samaritanmag's conversation with Toronto-based writer and arts activist Jason Samilski, but the reason for the tools' raucous hum is kind of fitting to the discussion at hand.
Samilski is talking about CUE, the innovative, arts-support initiative that, one, recognizes that the current arts funding system is failing to reach some of the city's most marginalized, young artists and, two, aims to bridge that gap. We're sitting on a slab of rocks on Sudbury St., just south of Queen West and home to a spate of construction activity that will finish the area's transformation into a vibrant, mixed-income community; one that will station affordable art studio space and geared-to-income apartments next to new condominiums.
It's the type of social equity that serves as an apt metaphor for CUE. "We have to really consider throughout history some of the most influential artists and visionaries have been people who are coming from heavily marginalized backgrounds; people who are not floating in our mainstream, capitalist society," Samilski, CUE's program director, tells Samaritanmag. "If we're living in a system now where people who are living in those sorts of realities cannot connect with funding then we have to do something about that, otherwise we're going to lose out on multitudes of great voices; that's the imperative that compels us."
Founded in 2008, CUE is a high-access/low bureaucracy, peer-to-peer arts funding program that supports the work of artists who are homeless, lack formal education, face issues of poverty, addiction, mental health or literacy issues. These artists can be LGBTQ; they could have experienced racialization or discrimination; they may be isolated or simply eccentric and disconnected from more mainstream arts communities and support networks. But they all have one thing in common: they are underserved by a granting system that often requires extensive paperwork, technical language or academic requirements.
In breaking those barriers to financial support, CUE takes a radical approach grounded in two principles: connecting marginalized artists with peers who understand and can address their issues, and revolutionizing a granting application process often mired in a bureaucracy that runs counter to the free-flowing nature of art.
"We very much recognize the need to not only create a system where people who are marginalized connect with funding, but we need a system that's actually going to recognize what art is," asserts Samilski. "We want to foster an environment where artists are free to live in the artistic landscape of their minds all the time; where they don't have to conform to these sterile art world standards of application processes and academic language around their work.
"As funders, we need to get on the artist's level, we don't need artists to come to our level to deal with the bureaucracy, paperwork and all that bullshit which surrounds so many art granting systems."
Samilski is familiar with that system. As a young writer, he participated in Sketch, a municipal nonprofit that engages at-risk, street-involved and homeless youth in the arts (and who supports CUE via a shared platform partnership), and saw firsthand how he and his peers struggled to gain access to arts grants. CUE's approach comes from those experiences.
Project coordinators and youth facilitators mentor young artists in concept development, proposal writing, budget management, marketing, and exhibiting multidisciplinary arts projects in a manner that addresses their needs. So, for example, if an artist faces language or literacy issues, CUE's simplified grant application process has an option that allows those artists to present proposals verbally. Moreover, applications are juried by other young artists in the community who themselves are mentored in the review process. Regular collaboration meetings allow artists and mentors to share practices, collaborate on ideas and methods, provide constructive feedback and offer personal support during the production process.
The circle of peer-to-peer mentorship creates an affirming community that helps marginalized youth overcome the barriers that inhibit their work. Those same artists can then go on to connect with the city's larger arts communities and even craft a professional career for themselves.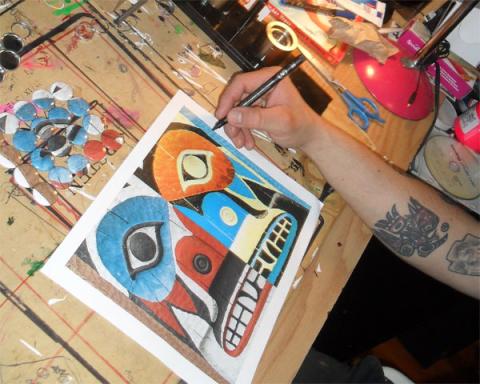 "CUE works as a high-access formula and a high-access solution to getting arts grants, but it also works as a capacity-building mechanism," says Samilski. "What we've seen before is that folks who do go through CUE and are successful with their grants, produce a project and exhibit it, will go on to get funding from the Toronto Arts Council or the Ontario Arts Council or hook up with other shows. [They] find different ways to get their work out there because of that increased capacity."
To date CUE, which is also supported by the Laidlaw Foundation, has provided over $100,000 in direct project support, supported 77 arts projects, facilitated over 500 one-on-one mentorship sessions and worked with young artists to exhibit work in more than 30 public events and venues. Its efforts have been recognized with a 2010 Identity N' Impact Community Arts Award and, more recently, a 2012 Vital Ideas award by the Toronto Community Foundation. The Vital Ideas award will assist CUE in its current expansion. It seeks to partner with different organizations across the GTA, including Scarborough and Etobicoke, to reach out to youth.
In September, CUE will host its annual group exhibition show at Toronto's Gladstone Art Bar. Tentatively untitled, the show is a continuation of last year's "Margin of Errors," a two-week exhibition that featured the work of 20 CUE-supported artists. Over 400 people attended and 43 works were sold, a testament to CUE's aim to empower marginalized artists to enter their views and visions into a wider discourse and add much needed, new voices to the city's arts community.
"Basically, as organizers we need to be spending the majority of our time recognizing and learning from our communities and figuring out how to work on the ground level," says Samilski. "The more time we can spend doing that, and the least amount of time we have to spend being accountants and upper-management kind of people, is a formula for creating better communities across the board whether it's Toronto, Ontario or the entire country."
2020 air jordan 1 retro high og sail obsidian university blue 555088 140