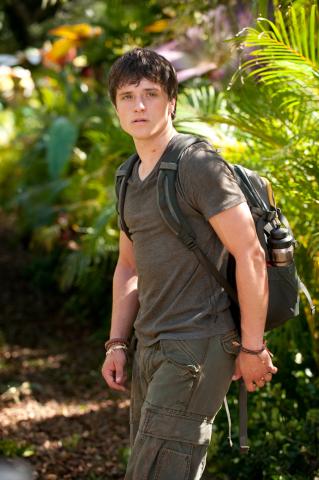 All eyes have been on American actor Josh Hutcherson (The Kids Are Alright) since he was cast as Peeta Mellark opposite Jennifer Lawrence in the movie of the post-apocalyptic young adult best-seller Hunger Games (opening in March). Now he wants to use his newfound fame to open those eyes to the realities of homophobia.
Hutcherson, 19, is one of the founders of Straight But Not Narrow, a coalition of straight young actors speaking in a series of online videos to young straight males against the bullying of gay males (see below for Hutcherson's clip).
Straight But Not Narrow was the brainchild of Hutcherson's best friend, Vancouver-born Avan Jogia of Nickelodeon's Victorious – "guys talking to guys about guys who like guys."
Besides Jogia and Hutcherson, the list of participants includes Glee's Cory Monteith, Jogia's Victorious castmates Matthew Bennett and Leon Thomas, Ryan Rottman of TeenNick'sGigantic and Gethin Anthony from HBO's Game Of Thrones.
"It's a lot of young actors in the industry, a lot of them friends," Hutcherson tells Samaritanmag.com. "It's a bunch of straight people coming out, so to speak, about how important it is to be an ally with someone who's gay, transsexual, bisexual, whatever."
The tone is light. In Hutcherson's own video on wearesbnn.com, he asks rhetorically, "Does it matter if your guy friends like guys over girls? I mean, doesn't that leave more girls for you?"
The humour is deliberate, he says, to avoid a tone of lecturing, "and to underline basically how ridiculous it is to discriminate or persecute people over who they're attracted to.
"The goal is raising awareness. We have fundraising events [including a recent Drag Queen Bingo at a popular West Hollywood burger joint with proceeds going to the teen crisis intervention group The Trevor Project]. There are give-aways, t-shirts, a big online presence on Twitter and Facebook." The Facebook page has 4,000 "likes," while the Twitter feed has 12,000-plus followers.
"We've just gotten it started up, and it's a very exciting time for us," says Hutcherson. "And it hits close to home for me. I have a bunch of gay friends in Los Angeles. My roommate's gay. I lost two uncles when I was young to AIDS, so it's an important cause in my family."
Footpatrol x The North Face will keep you warm... In style! - Fashion Inspiration and Discovery