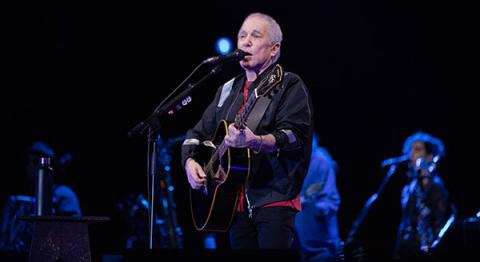 Paul Simon, who last year said he intends to do charity shows after giving up concert touring,  is set to donate the proceeds from his Aug. 11 Outside Lands Festival headlining performance to two environmental causes, the San Francisco Parks Alliance and Friends of the Urban Forest.
"I'm looking forward with great anticipation to playing at Golden Gate Park this summer," Simon said in a statement. "This will be my first appearance there, and it's an honour to join the long line of musicians who've given the park its sanctified musical heritage. I'm equally pleased to be playing in San Francisco with its well-deserved reputation for being in the forefront of environmental issues,.
Friends of the Urban Forest (FUF) promotes a larger, healthier urban forest in and around San Francisco through community planting, tree care, education and advocacy.
It helps individuals and neighbourhood groups plant and care for street trees and sidewalk gardens in San Francisco, with an aim to beautify neighbourhoods, clean the air and reduce polluted storm water runoff. The organization supplies free street trees in the city, or helps plant trees by removing cement, old trees and other debris; it also plant sidewalk gardens around existing trees, or where no trees can be planted.
"It's obvious that street trees and sidewalk gardens beautify our urban environment.  They provide so many other benefits that the U.S. Environmental Protection Agency and city planners regard them as part of a city's green infrastructure. Yet more than half the available street tree sites in San Francisco are currently unplanted.  We must plant more trees and sidewalk gardens to take full advantage of the benefits available to us," the charity says on its website.
Since 1981, FUF has brought communities together to plant more than 60,000 trees, totalling almost half of the city's street tree canopy, according to the charity's website.
The other beneficiary of Simon's performance proceeds, San Francisco Parks Alliance (SFPA), champions and transforms neighbourhood parks and public spaces via partnerships with community groups, city agencies and local businesses.
"We believe that building these partnerships to support parks and open spaces leads to stronger, more cohesive communities, greater physical and mental wellness, and a more sustainable, equitable urban environment," SFPA says on its website.
Founded in 1969, SFPA also helps sponsor nearly 100 small grassroots non-profit groups in the city. Around 30 percent of San Francisco is public space, which includes 350 parks.
"The city's 880,000 residents and millions of tourists rely on these spaces to provide everything from relaxation, to exercise, to community. In turn, these parks and their stewards rely on us to provide critical support for all of the activities that make a public space into a personal one," SFPA says on its website.
The organization also hosts outdoor movie nights -- billed as Sundown Cinema and done in partnership with cinema chain Alamo Draftshouse -- to allow city residents to enjoy public spaces devoted to nature.
Last February, Simon posted this message on Instgram:
A message from Paul — . I've often wondered what it would feel like to reach the point where I'd consider bringing my performing career to a natural end. Now I know: it feels a little unsettling, a touch exhilarating, and something of a relief. . I love making music, my voice is still strong, and my band is a tight, extraordinary group of gifted musicians. I think about music constantly. Sadly, we lost our lead guitarist and my friend of 30 years, Vincent N'guini, who died last December. His loss is not the only reason I've decided to stop touring, but it is a contributing factor. Mostly, though, I feel the travel and time away from my wife and family takes a toll that detracts from the joy of playing. I'd like to leave with a big Thank You to the many folks around the world who've come out to watch me play over the last 50 years. . After this coming tour, I anticipate doing the occasional performance in a (hopefully) acoustically pristine hall, and to donate those earnings to various philanthropic organizations, particularly those whose objective is to save the planet, ecologically. Once again, I am very grateful for a fulfilling career and, of course, most of all to the audiences who heard something in my music that touched their hearts. .
Air Jordan Release Dates Calendar