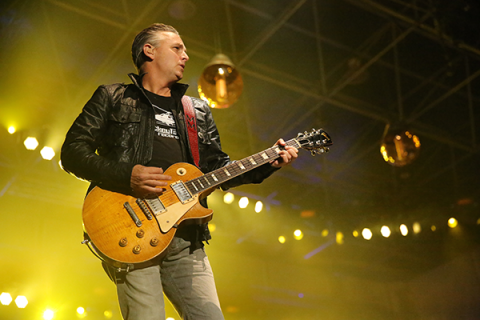 Pearl Jam's Mike McCready will receive the Stevie Ray Vaughan Award at the 2018 MusiCares Concert For Recovery on May 10 at 1100-capacity The Showbox in Seattle, at which Slash, Duff McKagan, Chad Smith, Barrett Martin, Mike Ness and Nancy Wilson will all perform.
The concert, which will close with a performance by McCready and friends," will raise money for MusiCares, the charity arm of the Recording Academy, the organization which puts on the Grammy Awards each year.  MusiCares provides financial, medical and personal aids for musicians and those working in the music industry, which includes access to addiction recovery resources. 
McCready, who has been open about his own bouts with addiction in the early 90s and 2000, is receiving the Stevie Ray Vaughan Award in "recognition of his significant dedication to and support of MusiCares and his commitment to helping others in the addiction recovery process," according to the press release.
"Recovery is a journey that you take each day, and mine has been affirming from a musical standpoint and a community perspective," said McCready in a statement. "To be able to raise funds for MusiCares and the critical addiction recovery work they do for music people across the country all year long is humbling, and it speaks to the way we can come together to help those in need."
In addition to the multitude of services offered by MusiCares — from emergency financial assistance for bills such as rent, utilities, and car payments to treatment for HIV/AIDS, Parkinson's disease, and other critical illnesses, and nationwide educational workshops on everything from finances to legal aid — the foundation provides access to addiction recovery treatment and sober living resources.
"Staffed by qualified chemical dependency and intervention specialists, MusiCares offers Safe Harbor Room support, sponsored in part by the Bohemian Foundation, to provide a network to those in recovery while they are participating in the production of televised music shows and other major music events.
"MusiCares holds weekly addiction support groups for people to discuss how to best cope with the issues surrounding the recovery process. The MusiCares Sober Touring Network is a database of individuals across the United States who can take music people to recovery support meetings while on the road." 

Tickets for MusiCares Concert For Recovery, presented by Amazon Music, range from $250 for Highboy Individual Cabaret seating to $5,000 for Platinum Prime Cabaret floor seating for four. All tickets will include a buffet. For more information, contact Wynnie Wynn at wynniew@grammy.com or at 310.581.8659, or visit the ticket form here. 
A one-of-a-kind Nixon Chris Cornell Sentry timepiece that is touring to Nixon's flagship retail locations in London and Paris in the spring of 2018, will be auctioned off live at the Concert For Recovery.
Air Jordan