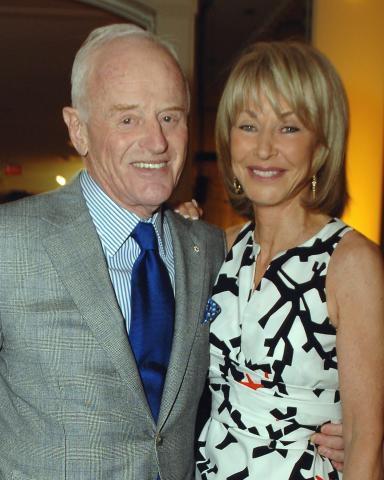 One of Canada's most admired and significant philanthropists has died. Peter Munk, who donated nearly $300 million to numerous causes and established and created the renowned Munk Debates, with his wife the Peter and Melanie Munk Charitable Foundation, passed away early Wednesday, March 28, surrounded by family and friends. He was 90.
According to the web site, "The Peter and Melanie Munk Foundation makes strategic gifts to qualified Canadian and international institutions. The foundation focuses on three areas of giving: higher education, healthcare and public policy research and discussion. The primary grant recipients of the Peter and Melanie Munk Foundation are the Munk School at the University of Toronto, the Peter Munk Cardiac Centre at the University Health Network in Toronto and the Technion-Israel Institute of Technology. The foundation contributes to public policy research and discussion through its sister foundation, Aurea."
Born in Budapest, Hungary in 1927, Munk and his family ending up fleeing the country in 1944 due to the WWII invasion of Hungary by Nazi Germany. They eventually ended up in Toronto four years later.
A lifelong entrepreneur, Munk made his greatest fortune as founder – and later Chairman Emeritus – of Barrick Gold, the world's largest goldmining company.  But it wasn't his first venture: during his storied career, Munk made customized hi-fi sets for wealthy clients, first as Peter Munk Associates and later as Clairtone Sound Corporation.
Later, he ventured into hospitality with a hotel empire in the South Pacific; created a real estate investment trust and pursued opportunities in oil and gas.
In 1983, Munk founded Barrick Gold with investments in two Ontario and Québec mines, later investing in a Nevada mine that had new gold deposits discovered at the site. As a result, it became one of the world's richest gold mines.
Philanthropy was a cause that was close to Munk's heart, as he told Toronto Star journalist Kimberly Noble in 1994: "You can create wealth. You are entitled to this creation. But ultimately society makes it possible, and this wealth should flow back to society someday."
In a 2010 interview with the Globe and Mail, Munk reiterated his desire to give away the majority of his fortune, especially after his death.
"It is your obligation to give back as much as you have taken from a country," he said in an interview from his winter home in Switzerland. "I consider myself considerably lucky. … I've made some money and I wish to give it back."
And give he and his wife Melanie did: $175 million to the Peter Munk Cardiac Centre, including a $100 million donation in 2017 that remains the biggest individual gift to a Canadian hospital; $42 million to the Munk School of Global Affairs and $43 million to the Technion-Israel Institute of Technology.
In 2006, the couple also established the Aurea Foundation with a $25 million endowment that led to the creation of the Munk Debates, a series of semi-annual debates to discuss public policy.
Peter Munk, a Companion of the Order of Canada, is survived by his wife Melanie, five children and 14 grandchildren.
On the Barrick.com site, Dr. Barry Rubin, medical director, Peter Munk Cardiac Centre, offered th following words about Munk and his philanthropy:
"Mr. Munk has provided unwavering support for the Peter Munk Cardiac Centre (PLCC), which he created in 1993 with the singular vision of being the top heart Centre in the world. On many occasions, he urged me to focus and to be the best at what we do. Peter Munk often spoke of the PMCC as an investment in Canada that allowed him to give back to the country that gave him everything. Peter Munk frequently told me that he derived the most joy and satisfaction from people that would stop him on the street, ask if he was Peter Munk, and when he said "Yes", they went on to thank him for saving their mother or father or other family member's life through the care that was provided at the PMCC. I will miss his wisdom, guidance, charm and wit, and the way in which he treated everyone he met with dignity and respect. Mr. Munk's constant insistence for excellence will continue to be the inspiration to all of us at the PMCC."
Patike – Nike Air Jordan, Premium, Retro Klasici, Sneakers