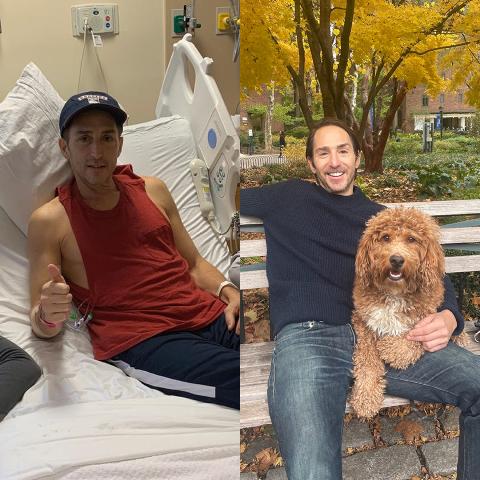 "I BEAT CANCER AND WROTE A SONG ABOUT IT!" begins a post by Adam "Bix" Berger, the co-founder of Toronto's Royal Mountain Records, before posting a link to "Dance On The Bones" and its video. All proceeds will go to a cancer program for teens and young adults at New York's Memorial Sloan Kettering Cancer Center, which treated him.
"MSK created an Adolescent and Young Adult (AYA at MSK) program which unites experts across 16 specialties, including medicine, surgery, social work, sexual health, and survivorship to help meet those challenges. The goal is simple: providing the best care for MSK patients ages 15 to 39," it states on the web site. "...Because cancer is rare in this age group, people may not think much of their symptoms, and local doctors may not suspect cancer because they see so few cases across their careers — or even none at all."
Bix, now 53, was diagnosed in 2019 with myelofibrosis, a form of myeloproliferative neoplasm (MPN), a rare blood disease that develops when the bone marrow makes too many blood cells. Myelofibrosis causes scarring inside the bone marrow.
"I was very happy to see the story picked up by Exclaim [magazine] and I'm thrilled the song is being shared on socials and also passed through MSK," Bix told Samaritan in an email. "I've been speaking with younger patients and people contemplating getting transplants and I'm proud to share my story, and song, if it's any help or any source of inspiration in any way.  I'm thrilled to see donations coming in for the program and I'm grateful for all the heartwarming feedback and support I've gotten with the song."
He released "Dance On The Bones" to celebrate the two-year anniversary of his release from the hospital and doctors now declaring him CANCER-FREE (he wrote in all caps).
"I'm thrilled that MSK has launched their new Teens And Young Adult Cancer Program to help support younger patients facing all aspects of coping with and battling this terrifying disease," he continued. "I'm donating royalties from this song to this program and while song royalties tend to usually be quite small, I'm asking anyone who wishes to donate to the program directly to go to http://mskcc.convio.net/goto/TYA."
The New York-based label owner and music manager who helped build the careers of such acts as PUP, Calpurnia, Alvvays and Hollerado (the band's Menno Versteeg is his partner in Royal Mountain), put his diagnosis "out there in the world" in a Sept. 19, 2019 Instagram post captioned, "OK. I HAVE CANCER." He explained it was a rare blood cancer called myelofibrosis and his chance of survival depended on a stem cell transplant that he would get a few weeks later.
"It came as a huge shock," Bix wrote in the recent post. "In preparing for this life-threatening trauma, I tried to put aside the worse case scenario and did my best to try to stay positive, especially in the eyes of my two children. As a sort of therapy, I brought my guitar with me to the hospital and began to write songs in my room."
The press release for the single states that the guitar was a gift from friends after they learned of his diagnosis. 
Of "Dance On The Bones," which begins "breathe out/breathe in/after healing/we'll take our place/I got this feeling I believe in/we're meant for something great," Bix says, "I think this song […] is something I needed to tell myself to fight through the fear and to focus on the power of positive thinking, hope, the love and support from family and friends. I thought about my mom who passed from lung cancer and about being grateful for every single cherished day above ground."
He adds that he's "forever thankful for my anonymous stem cell donor and to BeTheMatch.org for giving me my chance to live."
The music video was created by Martin Macphearson and produced by Jesse Singer and Chris Soper of Likeminds.
Watch it below: