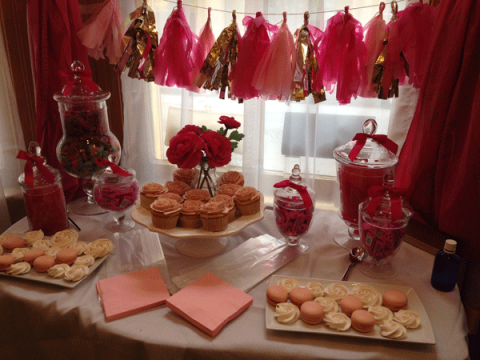 Pink drinks, pink nails, pink cupcakes, pink eye shadow, pink-filled gift bags, all available in a pink house. Not just any house. For those familiar with Toronto's Yorkville district, it's The Pink House, the colour and flagship location of Canadian handbag and accessory brand Jeanne Lottie.
No doubt designer Jane Ip, who started the brand with sister Charlotte in 1985, loves pink but last Saturday afternoon, in honour of Breast Cancer Awareness Month, she staged the Pretty In Pink party in partnership with online magazine and event company Pink the Town and  Yorkville-Forest Hill Real Estate Inc.
The event, which included regular retail sales, a silent auction and a raffle, raised more than $2000 for Princess Margaret Cancer Foundation. Guests received 40 percent off any item at the store and 10 percent of the sales were donated to PMCF, along with 100 percent from the auction.
"In 2002, we started the Pink Bedroom Party to raise money and awareness for breast cancer research. It was fun and over seven years we raised more than $100,000 for the Princess Margaret Hospital," LP tells Samaritanmag. "Since then, we have inspired many others, including big corporations to follow our steps. We stopped for a while, as close family and friends are actually encountering the terrible
cancer, to concentrate on business and taking care of the love ones. 
"This year, we are back in action again and revive our Pink party. The venue is free and the drinks and treats were all donated. We obtained silent auction items from generous neighbours and friends and raised over $2,000 within four hours.  It's simple, fun and very pink.  Of course, we need to give credit to Pink the Town, our event organizer and also Forest Hill Realty sponsored the event.   Everyone had a wonderful time for a great cause and it's a celebration of life."
The pink treats and beverages were provided by Le Dolci Cupcakes & Cakes and SkinnyGirl; the pink makeup application was courtesy of Murale and the pink mini-manicures from LUX SPA. The silent auction items were courtesy of KitchenAid, Murale and Love Nutrition Co., among others, and the raffle prize of $100 gift certificate for Vaticano restaurant.
The first 100 people through the door also received a pink-filled gift bag full of goodies from Mary Kay, LUX SPA and Gosh.
girls youth nike high tops shoes Light Smoke Grey