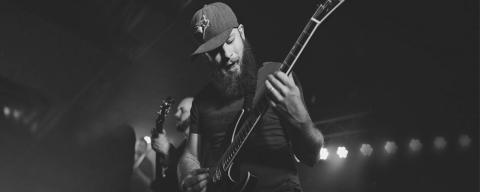 Unlike the Movember campaign, where men grow facial hair to spread awareness about prostate cancer, guitarist Tim MacMillar of the Canadian progressive metal band Protest The Hero is going the opposite direction: He wants to shave off his beard.
Only the cause isn't prostate cancer, it's leukemia - and it's personal: MacMillar's father is suffering from the disease. And although he's been collecting money throughout the band's current tour to donate to the Leukemia ward at the Toronto's Princess Margaret Hospital, MacMillar is still considerably short of his $5000 goal.
As of Dec. 15, he has recieved $1325 in donations.
So he's issued the challenge: if he reaches $5000 by the time the band appears at the Danforth Music Hall on Dec. 18, he will shave off his epic beard —  onstage, during the show.
"Growing a long beard is something that can only be accomplished with time and to some, this is a feat," said MacMillar in a statement. "Apparently, not shaving (for years) is something that is admired in our society or seen as strange and at the very least a reason for a stranger to come up and talk to you or give you a high five on the street. I've proudly sported my furry buddy for over three years and now it's time to say good-bye.
"I've recently been spending a lot of time at the Princess Margaret Hospital accompanying my Dad as he is having treatment for Leukemia. I've been blown away with the facility and as a thank you to the staff there I'd like to raise money to make a donation. Three years is over 1000 days; if I got $5 a day since I began growing this thing, I'd have over $5000.
"That's the bounty I'm setting on my beard, and if I can receive this by Sunday the 18th for Protest The Hero's Toronto show, I'll chop it off on stage. After 2 shows, I've already raised over $400 so this is very possible. If I don't hit my goal, I'll still be making a donation, but I guess that means the beard has to stay for a little longer…"
If you want to donate to the cause and help MacMillar's chin breathe its first fresh air in three years,  go here.
Articles de sport pour homme