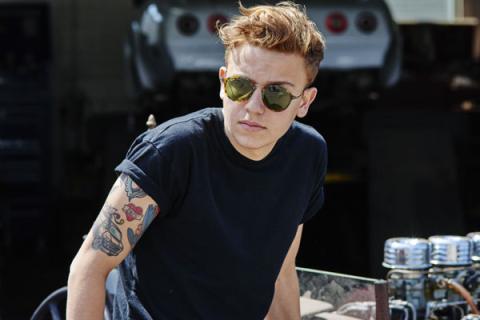 Toronto pop singer Scott Helman will be creating a wall mural installation and releasing a song to raise awareness about the ongoing climate crisis.
The "Bungalow" and "PDA" singer will be creating the mural Nov. 21 at an undisclosed location in Toronto along with artist Kayla Buium (Milkbox). The mural will include messages of concern about the climate crisis collected from Helman supporters in recent weeks as part of the Evergreen Project.
"For the past few weeks, an anonymous form on my website has been collecting testimonies from my fans on their feelings about the climate crisis," said Helman in a statement. "We've received over 600 entries and have compiled them into a document entitled 'The Evergreen Manuscript.'"
Helman and Buium will illustrate these testimonies on the mural. Members of the public who attend to watch the creation of the mural will have the opportunity to add their own message. A live stream of the mural creation will take place Nov. 21 between 3-7 p.m. ET.  
The next day (Nov. 22) Helman will release the new Evergreen song and will follow this up by soliciting elected officials with the messages he's collected.
"In the weeks following the event and song release, we will compile a hard copy of the Evergreen Manuscript and present it to elected officials across municipal, provincial, and federal governments," added Helman. "I want our leaders to understand the collective anxiety of the people. To feel what we feel, and to act with the same urgency."
The 24-year-old singer has a history of humanitarian gestures. In 2015 the then-emerging musician created Solve The Solvable, a working philosophy and loose support network revolving around the idea of trying to tackle issues in one's community.
Helman's Solve The Solvable philosophy:
1) While there are a lot of problems without answers, there are also problems with answers.

2) Everybody has the ability to do good, whether it's giving away a million dollars, or being kind to someone who looks like they're having a hard day.

3) The world needs people to solve the big, complicated problems, but it also needs people to solve the smaller, solvable ones. If everybody helped to solve the problems closest and dearest to their hearts and in their communities, the world would be a lot better off.
4) If we do this together, we could get pretty strong and help solve some stuff.
5) There's a system that churns out a status quo, or a centralized idea of what "being a good person" means. We're told that if we eat organically, or donate to this charity or that organization, or support this ideology or that ideology, we graduate to the big leagues of the philanthropists and the activists. But sometimes it's hard to tell what's good. If we localize and personalize goodness, what WE want to see changed in our communities and lives, and by effect make our communities better and stronger and more connected, we could create a force bigger than that system!
Watch Helman's #EvergreenProject video
Air Force 1 Sage Low