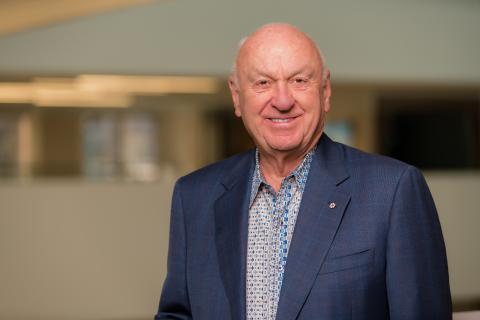 As the COVID-19 outbreak threatens the incomes of working Canadians, Western Canadian cable giant Shaw Communications has donated $1 million to Community Food Centres Canada (CFCC), which supports 13 community food centres countrywide and advocates for low income families and communities.
"The COVID-19 pandemic has affected all aspects of our lives and has significantly increased the demands placed on the organizations that are helping to provide food and resources to the most vulnerable Canadians. As long time partners of Community Food Centres Canada—and some of the community food centres and organizations they support —we are pleased to help them provide food security to low-income individuals, seniors, First Nation communities, and marginalized members of our communities during this time of crisis," Brad Shaw, CEO of Shaw Communications, controlled by the Shaw family of Canada, said in a statement.
JR Shaw, the company's founder and CEO, passed away March 23. He was 85.
Nick Saul, CEO of CFCC, explained vulnerable Canadians need emergency support to cope with the immediate and evolving impact of the COVID-19 crisis.
"The demand at our Community Food Centres and good food organizations has never been higher, and this extraordinary donation from Shaw, a longtime partner, will help ensure that more Canadians get the essentials they need to help get through this difficult time. We are immensely grateful to Shaw for their very generous gift," Saul said in his owns statement.
Saul added that, as many Canadians shop heavily to ensure they can eat as they self-isolate in their homes, that option isn't available to vulnerable Canadians forever facing what he called "food insecurity."
"People are working from home, avoiding public places and stocking up on groceries.  But these are not options for Canadians who rely on already inadequate social supports, or those who are precariously employed. They have trouble putting food on the table each and every day. They certainly don't have extra income to prepare for emergencies," he argued.
Shaw's donation aims to support CFCC as it backs community food centres like The Alex in Calgary, which in better times educates local people in how to cook, garden and make their community a healthier place for everyone.
"We increasingly understand the role good food plays in building physical health and emotional well-being, yet the benefits of eating and sharing healthy food is out of reach for too many Calgarians," The Alex says on its website.
Joy Bowen-Eyre, CEO of The Alex, added in the wake of the Shaw Communications donation in her own statement: "We are working tirelessly to deliver meals to The Alex's community members, who are some of Calgary's most vulnerable. This allows us to reduce barriers to food access and to stop the spread of COVID-19 among those most at risk. Shaw's incredible donation will help us offer more meals and reach more of our clients in this critical time."
Another community food centre aligned with the CFCC is Surrey, British Columbia-bsaed DiverseCity, which operates a community kitchen among its support for new Canadian citizens. 
"For newcomers to Canada, adjusting to a new culture, language, and financial situation can be extremely stressful, and the COVID-19 pandemic is posing a whole new set of challenges for them. The last thing anyone should have to worry about during a time of crisis is whether or not they will be able to eat. Shaw's generous donation will help give newcomers in our community access to healthy food and food skill resources they need to help during their transition," Neelam Sahota, CEO of DiverseCity, said in her own statement.
Other settlement services offered by DiverseCity, which have been disrupted by safety measures imposed in the wake of the COVID-19 outbreak, include teaching English to newcomers, free childcare services, a "a trauma-informed program" for newcomers requiring language instruction and conversation circles.
 Nick Saul of CFCC on the organization's website cautioned that safety measures around the COVID-19 crisis meant Canadians could no longer receive meals in share spaces like community kitchens.
"Community Food Centres have suspended community meals and cooking programs and are now focussing on ensuring community members can safely access food through take-away meal programs and enhanced access to food pantries," Saul said in a COVID-19 update.
 Another priority is raising funds to "ensure that our partners can purchase food and supplies to support our most vulnerable neighbours in these unprecedented times."
Another organization supported by CFCC is Dixon Hall Neighbourhood Services, a Toronto-based agency that began as a soup kitchen in 1929 and now supports residents of east downtown Toronto.
"It is crucial that we work together to help provide food security to Canada's most vulnerable populations as we navigate through the COVID-19 pandemic. Shaw has been a long-time supporter of Dixon Hall and their recent donation will help us ensure vulnerable Canadians facing challenges like homelessness have access to healthy meals and get the essentials they need to help get through this difficult time," said Mercedes Watson, CEO of Dixon Hall, in a statement.
Nike KD 11