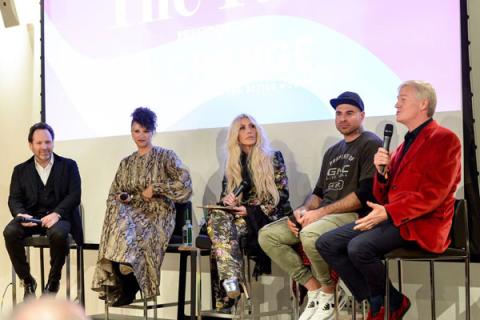 A marquee speaking event has raised $77,000 to support the Regent Park-based youth arts charitable organization, UforChange.
Held on November 21 at Toronto's Artscape Daniels Launchpad, the event in question was "The Talk," which featured a live panel discussion with a live panel discussion with producer/director Barry Avrich, ELLE Canada's editor-in-chief Vanessa Craft, fashion designer Mikhael Kale and tech entrepreneur G. Scott Paterson. It was moderated by Mantella Corporation's Sylvia Mantella. Attendees at The Talk included Toronto Mayor John Tory, actors Anna Hopkins (Shadowhunters, Bad Blood), Vanessa Matsui (Shadowhunters), Natasha Negovanlis (Carmilla) and media personality Glen Baxter.
Established in 2009, UforChange is designed to provide practical and creative skills and training for 16-to-29 year olds in the arts and entertainment industries. Begun initially as an incubator for young adults in the priority Regeant Park-St. James Town area of Toronto, the program has expanded its reach across the city in recent years. These young creatives are provided free training and mentorship in areas like fashion, photography, graphic design and DJ arts and given access to studios with modern computers and production software, cameras and film equipment as well as gear like sewing machines and DJ gear.
The organization's Core Arts program accepts 30 participants each year, with another 350 being given access to workshops, mentorships and industry partnerships. According to UforChange, they've impacted 1,632 young creatives since their inception.
"We are so grateful to have had such a successful evening last night filled with many supporters which included the youth from UforChange, Mayor John Tory, our generous sponsors, and our inspiring panelists to name a few," said event co-chair Sarah Paterson in a statement. "The Talk was built on a concept to bring people together who were interested in sharing their life stories, where they started, and the challenges they faced. Expertly moderated by Sylvia Mantella, the anecdotes shared were personal and honest, allowing the audience to relate to their experiences from struggle to success. As the inaugural event of this kind for the charity, it has exceeded all expectations, and we look forward to bringing everyone together for another evening filled with inspiration and community."
Watch a video about UforChange
Patike – Nike Air Jordan, Premium, Retro Klasici, Sneakers