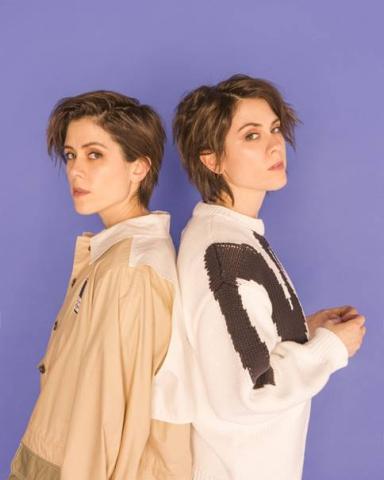 Canadian musicians Tegan and Sara Quin are asking members of the LGBTQ+ community in the U.S. and Canada to fill out a confidential healthcare survey to help understand their experiences related to the COVID-19 vaccine.
The 5-minute survey was developed by the identical twin singers' Tegan and Sara Foundation in collaboration with the health communications firm Entree Health and reviewed by researchers at SurveyMonkey, with contributions from physicians and healthcare experts specializing in LGBTQ+ healthcare.
In a joint statement, the pair, who have openly identified as queer since the beginning of their career in 1998, said "The COVID-19 pandemic continues to be one of the biggest healthcare crises in history. During this crucial time, we want to make sure the concerns of the LGBTQ+ community are heard - as we know they too rarely are.
"This survey is one of our efforts to give voice to queer people who are too often left out. The survey also includes the ability for people to share with us what has helped them to cope during this pandemic and where they get trusted health information."
As a duo,  Tegan and Sara have sold more than one million albums, won three Juno Awards, and been nominated for a Grammy nomination. They have toured all over the world, and on such stages as the 2015 Academy Awards to music festivals such as Coachella, Lollapalooza and Glastonbury.  They started their foundation in 2016.
LGBTQ+ people and other marginalized communities (including people of color and rural communities) have been particularly vulnerable to poor COVID-19 outcomes, as well as higher infection rates. These communities are also more likely to experience stigma and medical mistrust that may impact their decision to receive a COVID-19 vaccine, according to a study that was published in February.
This study sample included 1,350 predominately gay (61.6 percent), Black (57.9 percent), cis-gender (95.7 percent) males with a mean age of 32.9 years in the U.S. Medical mistrust and social concern regarding COVID-19 vaccine stigma were significantly associated with decreased COVID-19 vaccine acceptance among these respondents than their straight, cisgender counterparts.
The Tegan and Sara Foundation, which works to improve the lives of LGBTQ+ women and girls, seeks to understand these concerns, particularly with focus on race, ethnicity, income, geography, and age.
According to a press release from the foundation, the confidential survey, developed with leading LGBTQ+ healthcare experts, was designed to be sensitive to the needs of the community. The survey does not ask about sex assigned at birth.
"These questions are often asked insensitively and create unnecessary barriers for gender nonconforming, nonbinary, and transgender people," said the singers. "The survey does include 17 gender and sexual orientation choices, including the option to write-in or choose not to disclose."
The foundation will prioritize survey outreach and distribution to community-level organizations and underserved groups to include diverse voices of the LGBTQ+ community including TSF's Community Grants partners.