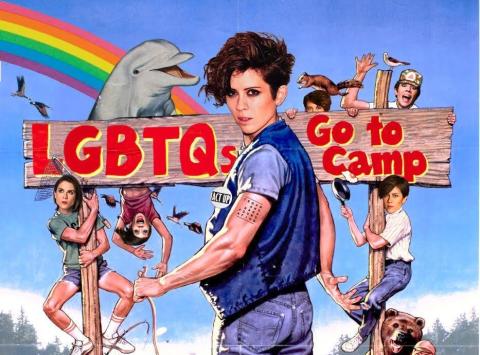 Tegan And Sara are sending more than 100 young people to LGBTQ camp this summer in the U.S. and Canada for a total cost of about $100,000 (USD), and have invited the public to help make that dream a reality. An online campaign has received swift support in a matter of days.
The musical twins behind such hits as "Closer" and "Everything is AWESOME!!!" announced on May 11 they'd be raising $20,000 USD through a partnership between their Tegan And Sara Foundation and the Ally Coalition so these LGBTQ young people can script out their own Meatballs / Wet Hot American Summer / Camp Rock / Scooby Doo: Scare Camp experience.
As of May 16 the campaign had raised just over $17,000 USD of it's $20,000 goal.

"The funds we raise will send these kids to an inclusive, supportive and identity-affirming camp that will make such a huge difference in their lives," Tegan And Sara posted on their social sites. "They not only give them an incredible experience while they are at camp, but they also provide them with leadership and coping skills that last a lifetime. 

"For each $1,000 donation, you can send a kid to camp.That means we need to raise $100,000, so we need your help to reach our goal!"  The inaitive is through Tegan and Sara Foundation LGBTQ Camp Scholarship.
Launched in 2016, the Tegan and Sara Foundation is "founded on a commitment to feminism and racial, social and gender justice. In partnership and solidarity with other organizations fighting for LGBTQ and women's rights, the Foundation raises awareness and funds to address the inequalities currently preventing LGBTQ girls and women from reaching their full potential."
In an nterview last year with Samaritanmag, Tegan And Sara's Sara Quin said, the pair are prepared to commit to their foundation for a long time. And if their goals need to change along the way, so be it.

"The one thing that we remind ourselves almost daily now, this is not an album cycle; this is not like a project; it is something that we see as being a lifelong focus," Sara said. "We want to set goals; we are very goal-oriented people, but I don't look at this like, 'Oh we are going to be able to whatever save the dolphins in the next two years.' It doesn't feel like that kind of issue. It feels like something that is fluid and will change and with each new administration or with each new decade or social movement, this is an ecosystem of people that we may have to address different problems as we go along, and not just problems, but different successes and things that are working and changing, and as we develop research and funding for things, how will that affect it? We are just looking at it as this is going to be something that potentially we will focus on for a really long time and it's going to evolve and change with the time."

The Ally Coalition was created by the pop band fun.'s Jack Antonoff and is fashion designer sister Rachel Antonoff in 2012 with a mission "to create a coalition of allies to use our voices and influence to end discrimination against LGBTQ people."

If it feels like Tegan And Sara's summer camp campaign is a bit of a family affair, that's  because it is.Sonia Clement, the mother of Tegan and Sara, is also getting involved in the camp campaign.

In a video posted on the Tegan And Sara social sites, Tegan can be seen talking to Clement about the campaign.

"We, together with Jack Antonoff of Bleachers and Ally Coalition, have created the Tegan And Sara Foundation LGBTQ summer camp scholarship and we are going to give full access to a hundred LGBTQ kids across North America to go to LGBTQ summer camp this summer," said Tegan. "And when I told my mom, guess what she said?"

"I want to send kids to camp," replied Clement.

"So what are you going to do?" asked Tegan

"I'm going to donate $10,000 so I can do that."

"So my mom is sending at least 10 kids, maybe more, to summer camp this summer and we're tell you about this because we're hoping that you'll give and maybe you can send some kids to summer camp, too," Tegan finished.

Watch the video:
THE SNEAKER BULLETIN