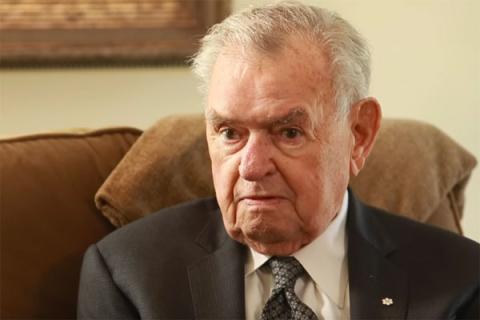 Ron Joyce, co-founder of the Tim Hortons fast-food franchise, died on Jan. 31 in his Burlington, Ont. home. He was 88.
While Joyce is best known for steering the Horton's franchise from its simple beginnings into the ubiquitous doughnut and coffee chain he sold to Wendy's for $600 million in 1995, it's his charitable legacy which may speak the most about Joyce.
Two of Joyce's biggest philanthropic efforts were the Joyce Family Foundation and the Tim Hortons Children's Foundation camp he started in 1975.
Joyce was born to modest means in Tatamagouche, Nova Scotia and never finished high school. He enlisted in the Royal Canadian Navy before becoming a police officer in Hamilton, Ont. and then embarked on his entrepreneurial career with the purchase of a Dairy Queen franchise before his eventual partnership with ex-NHL hockey player Tim Horton. His understanding of the difficulties young people with modest means face was one of the motivators for the Joyce Family Foundation. The foundation's primary focus is "to provide access to education for children and youth with significant financial need or facing other socio-economic barriers to success." The way the foundation does this is by providing funding to registered Canadian charities for student grants and bursaries.
"It is rewarding," said Joyce in a 2016 National Philanthropy Day video about his charitable efforts. "And it doesn't matter whether it's monetary or your time or whatever you can help. You look at the volunteers at hospitals... giving could be many things. It could be money, or just your time, but all of it's very worthwhile.
The foundation currently gives money to 40 different universities and colleges across Canada for various bursaries and scholarships.
Joyce was also instrumental in the creation of the Tim Hortons Children's Foundation (THCF). The Tim Hortons Children's Foundation is dedicating to supporting children from low income families across North America. The foundation operates seven different camps across North America which are used to provide lifestyle opportunities they wouldn't normally have access to. The THCF anticipates sending more than 20,000 kids to camp in 2019. Tim Horton's uses its annual "Camp Day" promotion where 100 per cent of the proceeds from the purchase of a coffee that day are dedicated to the THCF. Last year's Camp Day raised $13 million. The company has raised $185 million and sent 277,000 children to camp in the last 25 years.
"My father had a big vision and a big heart. Through hard work, determination and drive, he built one of the most successful restaurant chains in Canada," said his son Steven Joyce in a family statement. "He never forgot his humble beginnings."
Bursaries and camps weren't the only ways Joyce gave back. Hamilton's McMaster University was a favourite beneficiary of Joyce's, having received $10 million to create the Ron Joyce Stadium and $10 million to build the Ron Joyce Centre at the DeGroote School of Business in Burlington, Ont. in addition to the five distinct financial awards available to that university's students. Joyce also donated $7.5 million to the The Joseph Brant Hospital in Burlington to support its expansion.
Watch Ron Joyce speak for National Philanthropy Day 2016
adidas rokadia pants for women black green