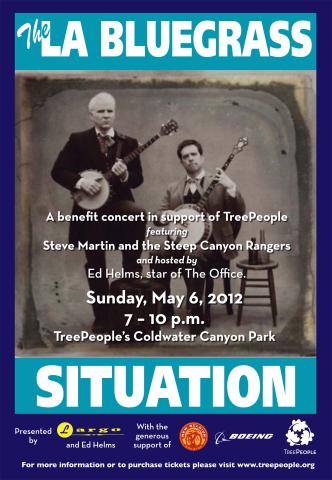 It's taken a while for Ed Helms' first love, music, to find its way onscreen.
As Andy Bernard on television series The Office, he's played his instrument-of-choice - the banjo. And he supplied a musical moment in The Hangover: Part 2 playing a spoof of Billy Joel's "Allentown" on the guitar.
So it is that Education Through Music L.A. (ETMLA) is one of two causes he supports through The L.A. Bluegrass Situation, a mini-festival he created with fellow banjo aficionado, actor/comedian Steve Martin, and Mark Flanagan, the manager of Los Angeles music and comedy landmark Largo.
Helms first learned bluegrass banjo in high school, years before comedy kicked in, for a performance in a high school musical. He'd go on to study at Ohio's Oberlin College of the Arts & Conservatory of Music.
"I'm a huge supporter of ETMLA, which works hard to keep music and arts programs in the schools as the funding disappears," Helms tells samaritanmag.com. "Music influenced me tremendously in school, and even now, I still consider myself a serious musician."
The other cause he supports is Tree People, a Los Angeles environmental group that, in its own words, "unites the power of trees, people and technology to grow a sustainable future for Los Angeles." What would you expect from the guy who voiced The Once-ler in the Dr. Seuss eco-fable The Lorax?
The Bluegrass Situation gang take turns with their fundraisers. "Tree People is a wonderful organization. It's really about encouraging personal responsibility," Helms says of the charity, which will receive proceeds from the next festival, May 3-6 at Largo (with a closing open-air show at LA's Coldwater Canyon Park).
The Bluegrass Situation is also an excuse for Helms to reunite on a regular basis with The Lonesome Trio, the bluegrass group he formed while at Oberlin. Steve Martin & The Steep Canyon Rangers will also play, with "very special guests" (which in the past have included the likes of Vince Gill, John C. Reilly and Will Arnett).
M2k Tekno