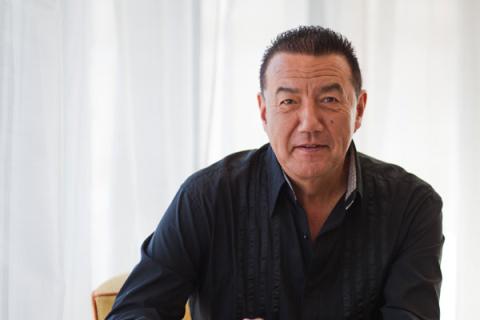 Singer/actor Tom Jackson hasn't let the global COVID-19 pandemic stop him from doing the 33rd annual Huron Carole charitable concert series.
While the 72-year-old Companion of the Order of Canada has been unable to tour Canada physically throughout December, he's gone virtual, performing unique streaming concerts for hosts in various cities across the country.
The focus on Jackson's 17 Huron Carole concerts has been mainly on supporting food banks with the proceeds from the virtual concert ticket sales but the remaining four benefit  a range of organizations.
"Under the cloud of these challenging times, I am of the opinion that food banks and those less fortunate in our world are going to be the ones most impacted by the current economic fallout from COVID-19," said Jackson in a press release. "This Christmas season is going to be different from any other, and it's going to require us — as individuals and as a society — to look even more inside ourselves for a light of optimism…a silver lining…
"We must treasure that light and hang onto that silver lining with all our might."
This year's The Huron Carole show features Jackson along with Tom McKillip, Darryl Havers, John MacArthur Ellis, Kirby Barber, and Chris "The Wrist" Nordquist. The four remaining events are the virtual benefit for the homeless and marginalized youth SKETCH Working Arts program in Toronto, ON on Dec. 15, the virtual benefit for the senior support service the Canadian Senior Artists Resource Network in Toronto, ON on Dec. 16, the virtual benefit for the Regina Food Bank in Regina, SK on Dec. 17, and the virtual benefit for the community outreach service House of Lazarus in Ottawa, ON on Dec. 20.
Jackson, whose resume includes a starring role in the 1990s show North of 60 and appearances on Star Trek: The Next Generation, Law & Order: Criminal Intent, and Little Mosque on the Prairie, is no stranger to charitable causes. This past spring Jackson launched a 12-week series called Almighty Voices to support the music industry charity Unison Benevolent Fund. The likes of Prime Minister Justin Trudeau, Susan Aglukark, Buffy Sainte-Marie, Sarah Slean, Liona Boyd, Measha Brueggergosman and Blackie and the Rodeo Kings appeared during the series.
Watch a trailer for The Huron Carole
Air Jordan 1