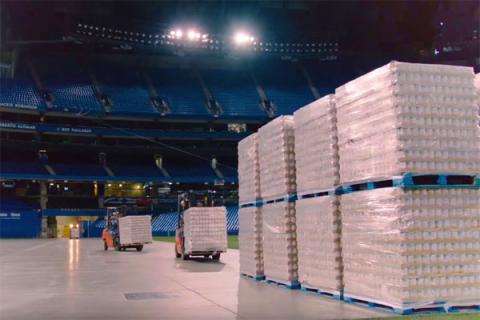 The Toronto Blue Jays have won Major League Baseball's (MLB) 2020 Allan H. Selig Award for Philanthropic Excellence because of the team's efforts during the COVID-19 pandemic.
The Jays, who spent the entire 2020 MLB season playing out of Buffalo, New York instead of in Canada due to pandemic-related health and travel restrictions, orchestrated the Blue Jays Community Commitment, a $7.5 million COVID-19 response plan with a goal of supporting Canadians most impacted this year. During the pandemic the team's home stadium the Rogers Centre was converted to a temporary food distribution site to support the work of Food Banks Canada.
According to the Jays and their charitable arm the Jays Care Foundation, in 2020 they:
• delivered 8.1 million meals to food insecure Canadians;
• had 14,200 youth participate in Jays Care virtual programming;
• provided 1,500 teachers, youth leaders, and volunteers trained by Jays Care in how to run best-in-class virtual programming;
• generated 20,000 volunteer hours from Blue Jays, Jays Care, and Rogers staff from coast-to-coast-to-coast;
• provided 2,000 adaptive equipment kits to families of children living with disabilities (Challenger Baseball)
The Allan H. Selig Award, which was named after former MLB commissioner Bud Selig was first awarded in 2010 and recognizes the charitable and philanthropic efforts of MLB clubs. The Jays become only the second team to have won the award twice, having also previously won in 2021. The Boston Red Sox are the only other two-time winner.
"In these unprecedented times, Clubs across our League have stepped up in their efforts to provide meaningful support to those in need within their communities," said Baseball Commissioner Robert D. Manfred, Jr. "The impact made by the Blue Jays and their Jays Care Foundation in critical issues amid the COVID-19 pandemic across Canada has been inspiring. All of us throughout baseball are proud of their contributions. On behalf of Major League Baseball, I congratulate the Toronto Blue Jays organization for this well-deserved recognition with their second Selig Award for Philanthropic Excellence."
Jays Care has been active since 1992, the year the team won their first World Series championship. Its goal is to "use baseball to teach life skills and create lasting social change for children and youth in marginalized communities across Canada." Jays Care estimates it impacts more than 65,000 children annually with its various programs.
Some of the initiatives Jays Care have pursed over the years include Home Run Scholars, a $1 million partnership with Pathways To Education to support students from under-resourced communities, the Jays Rookie League, which uses baseball to help children in communities with opportunity gaps to experience the game, the Field Of Dreams program that works with local charities to create safe community spaces to play baseball, the Challenger Baseball program, which helps children with cognitive and/or physical disabilities play adaptive versions of baseball, and Girls At Bat, a girls-only program designed to encourage girls to participate in the sport. Additionally, the Jays Care Community Clubhouse, a kid-friendly luxury suite at the Rogers Centre, hosts a number of charitable and community groups.
"Despite not playing on Canadian soil this summer, our hearts remained in Canada – with those in our community that were experiencing urgent needs exacerbated by the pandemic," said Mark Shapiro, President & CEO, Toronto Blue Jays. "Sport provides a tremendous opportunity for positive change. By turning challenges into opportunities this season, our fans, staff, players, alumni, and partners worked together to help thousands of Canadians when they needed us most. This holiday season, I hope this honour from Major League Baseball reminds Blue Jays fans of the collective power each of us has to help our neighbours and be a positive force for good."
Watch the Toronto Blue Jays receive MLB's 2020 Allan H. Selig Award for Philanthropic Excellence