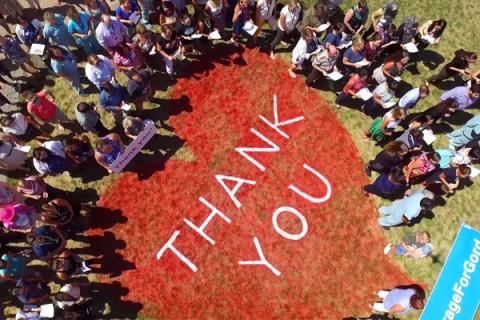 The Tragically Hip's recent concert tour across Canada has helped generate more than $1 million towards brain cancer research from donations.
The amount generated from a portion of the ticket sales has not yet been announced.
Gord Downie, the Canadian rock band's lead singer, was diagnosed with terminal brain cancer before the Hip's recent 15-show tour across Western Canada and Ontario. Motivated by a desire to support Downie, people across the nation have been donating to cancer research fighting causes ever since.
Sunnybrook Health Sciences Centre, which receives money from the Gord Downie Fund for Brain Cancer Research, says it has collected almost $800,000 in donations so far. Sunnybrook says these donations will give them "the tools to help beat brain cancers that are currently unbeatable. Right now we're investigating new drugs, surgical techniques and genetic therapies. We're using ultrasound to help drugs reach tumours that couldn't be reached before." The health science centre aims to conduct groundbreaking research to fight cancer.
"At Sunnybrook and at cancer centres across the globe, we are making important advances in brain tumour treatment, and support like this helps us continue our work," said Dr. James Perry, head of neurology at Sunnybrook, in a release. "To all those who have donated to brain cancer research, thank you."
Meanwhile, the Canadian Cancer Society has also received close to $400,000 in honour of Downie and The Tragically Hip.
"We are overwhelmed at how Canadians rallied together this summer and are very thankful for their generosity," added Dr. Siân Bevan, vice-president of research at the Canadian Cancer Society. "These funds will support clinical trials at the Canadian Cancer Trials Group, which is currently supporting six active brain cancer clinical trials, involving 421 patients, testing new ways to treat or manage cancer."
Helping fight cancer isn't the only good work Downie's currently involved in. He recently announced the Secret Path, a solo project including an album, graphic novel, animated film and live show. It follows the story of Chanie Wenjack, a 12 year-old boy who died while running away from the Cecilia Jeffrey Indian Residential School near Kenora, Ontario in 1966. That project is raising funds for The Gord Downie Secret Path Fund for Truth and Reconciliation via The National Centre for Truth and Reconciliation (NCTR) at The University of Manitoba.
Watch Sunnybrook staff salute Gord Downie
Air Jordan