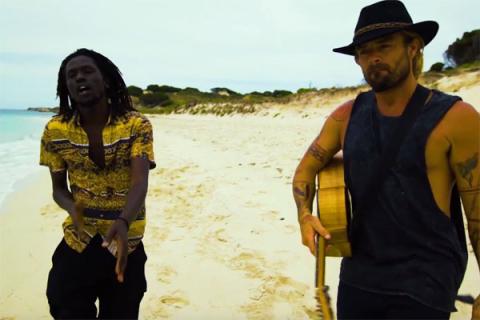 Emmanuel Jal and Xavier Rudd want their new musical team-up to spread love and kindness.

Jal, a South Sudanese-Canadian hip hop artist, activist and former child soldier, and Rudd, a socially conscious Australian musician, have released the song "Be the Love" to support Jal's We Want Peace charitable initiatives.

Launched in 2010, the We Want Peace (WWP) movement's goal is to "raise awareness on the fundamental principles of justice, equality and freedom for all, through the power of music." Jal's musical and philanthropic efforts help support things like Gua Africa, a charity he helped found which provides academic sponsorships to refugees who have survived war and genocide, helps build classrooms and helps with school supplies and teacher salaries in Kenya and South Sudan.

The "Be the Love" video features Jal and Rudd performing the uplifting reggae song on beautiful beaches woven in with clips of African youths and cameos from the likes of Michael Franti, Paul Beaubrun, Bobby Alu and Ant Aggs.

The song will anchor a greater "100 | 100 | 100" campaign where Jal is hoping to meet with a 100 event hosts, who will at each event raise funds to support 100 refugees going to school and to further fund another 100 "Be the Love" school visits.

"I believe to make our world better, each and every individual has to be the love and be the solution," said Jal in a statement. "The world is in a crisis, there seems to be more divides than ever. Some are crippled by poverty, others by depression, lack of purpose, worry and fear of failure. This process has put most people in a 'survival state' as they try to figure out a way to obtain their peace of mind and in the process they end up hurting others and creating divides or conflict with people outside of their own identity and communities. We can't point fingers at others to lead the change, the power is in our hands and the solution is within all of us. I believe each and every person has the power to illuminate themselves and the world, each and every person can be the love, be the light, be the peace, be the joy, be the source and be the solution."

"Be the Love" also received support from the Humanity United social welfare organization,  as well as some worthy Australian groups, Global Reconciliation, an organization that promotes practical reconciliation efforts between cultures, Igniting Change and anti-poverty organization Children's Ground.

Watch Emmanuel Jal and Xavier Rudd's "Be the Love"


NIKE AIR HUARACHE