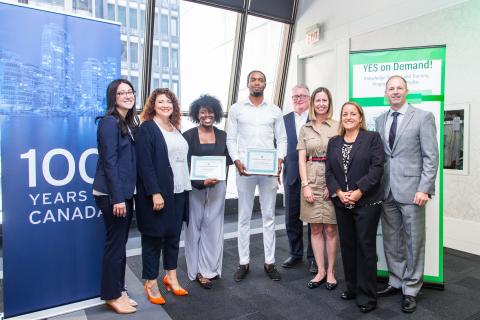 Youth Employment Services (YES) is partnering with Citi Foundation, the  philanthropic arm of financial institution Citibank, to help disadvantaged Canadian youth gain personal and professional skills and confidence through business start-ups. 
The new entrepreneurship program curriculum, unveiled on Aug. 14 with a breakfast launch at the Toronto Board of Trade, aims to help vulnerable youth get their lives on track to employment by launching their own businesses as young entrepreneurs.
This is a component of the YES On Demand! program, funded by the Citi Foundation, which "offers employable skills training and entrepreneurship development, career and mentorship counseling and job placement and internship assistance. This program has also allowed YES to scale nationally and help multiple organizations across Canada with free training, resources and knowledge transfer programming," according to YES.
The curriculum was developed as a knowledge transfer tool and is open-source so anyone can access it. The full package will be available for download on YES' website in the coming weeks. Youth who would like to access the curriculum in a facilitated workshop-based setting would need to be a YES client or a client at an organization who has embedded the curriculum into programming.
The partnership is part of the Foundation's global Pathways to Progress initiative, which aims to invest USD $100 million to connect 500,000 young people around the world, ages 16-24, to training and jobs by 2020.
"Unlocking entrepreneurship opportunities empowers young people to overcome barriers to employment," Florencia Spangaro, director of programs at the Citi Foundation, said in a statement.  "The innovative curriculum that YES has created will not only connect young people to the tools and resources they need to start their businesses, but it will also empower non-profits and accelerate youth entrepreneurship training across the country."
The curriculum offers practical support, via eight education modules geared towards the Canadian business climate and technologies, an includes training for personal development and practical business skills.  That includes an introductory entrepreneurship 101 course, followed by short courses on creativity and innovation; emotional intelligence; digital literacy; business planning; financial management and marketing; and social media for entrepreneurs. 
According to a comprehensive report by Civic Action, over 860,000 young Canadians aged 15 to 29 are not working, studying or in training.  Disadvantaged youth are most at risk at not being able to get on the employment ladder or unable to launch and own their own businesses to better their future prospects for lack of financing or social networks. 
"While many young people are interested in pursuing entrepreneurial opportunities, at-risk youth, such as low-income and immigrant youth, struggle to access the start-up money and may lack the social capital of their peers. The new curriculum helps youth start their own business and gives them the tools and mindset to succeed," the press release states.
YES, launched in 1968, has other programs to give vulnerable youth a leg up to employment and empowerment, including getting young people ready to take on jobs, such as Toronto's first integrated employment and mental health counselling program in partnership with the Centre for Addiction and Mental Health, or creating Wrap Around Support services for youth requiring access to meals, clothing and transportation to land employment. 
The curriculum program has financial backing from Citi Foundation, while YES programs have also been supported by Accenture, Gap, Starbucks Canada and KPMG. 
The U.S.-based Citi Foundation has backed earlier programs to help displaced workers secure new skills and training to compete for jobs in expanding sectors like healthcare, transportation, technology and construction.
"The Citi Foundation is focused on programs that help young people link education goals with leadership skills training and experiences, professional networks, and on-ramps to employment to increase the number of low-income youth, ages 16-25, who are able to get a job or start an income-generating business," it says on its website.
girls youth nike high tops shoes Light Smoke Grey