Beady Eye, the new band from former Oasis members, including frontman Liam Gallagher, is continuing its support of a charity that helps young people fight cancer.
"We're behind the Teenage Cancer Trust in the U.K.," guitarist Andy Bell, who joined Oasis as the bassist in 1999, tells Samaritanmag.
"All the band is," adds Gallagher.  "Because its important innit? We know people the cancer thing has [affected and] a few of us in our life time."
Beady Eye will perform March 25, at The Royal Albert Hall, in London, England, as part of the Teenage Cancer Trust's weeklong line-up of music and comedy gigs at the famed venue. The band — Gallagher, Bell, guitarist Gem Archer and drummer Chris Sharrock, along with touring bassist Jeff Wootten and keyboardist Matt Jones — will release its debut album, Different Gear, Still Speeding, on Feb. 28 in the U.K. and March 1 in North America.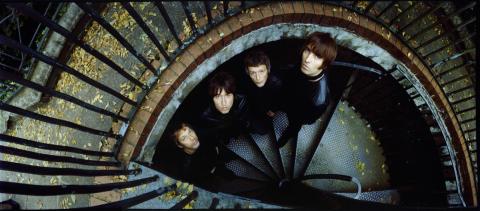 Oasis played the annual fundraiser in 2002.  "Noel [Gallagher, Oasis' former guitarist] played it for the same charity and now it's our turn," says Bell.
Also performing that week (March 22 to 27) are Squeeze with an 18-piece orchestra; The Who's Roger Daltry; Scottish rock trio Biffy Clyro; rock band The Editors; pop/rock act The Feeling; rapper Tinie Tempah; Liverpudlian stand-up comedian John Bishop and Scottish stand-up Kevin Bridges, among others.
"These gigs have raised nearly £10 million [$16.1 million CAN) in 10 years and they make a real difference to the lives of thousands of young people with cancer," Teenager Cancer Trust patron Roger Daltry said in a press statement.  "We've had both legends and rising stars play for Teenage Cancer Trust over the years and 2011 is no different. I'm truly grateful to everyone for their support."
Simon Davies, CEO of Teenage Cancer Trust, added, "Music plays a huge role in most young people's lives, whatever they are going through, and it's a big part of Teenage Cancer Trust. We're immensely proud of these gigs which help us raise the money we need to give young people with cancer access to the best possible care and professional support."
Concerts for Teenage Cancer Trust at The Royal Albert Hall are supported this year by Nomura and American Airlines. Nomura, the global investment bank, supports Teenage Cancer Trust as its London charity and has raised over £800,000 ($1.28 million CAD) in under two years. American Airlines will be providing transatlantic flights for the show's artists.
For more ticket or line-up information, click here.
adidas Yeezy Boost 350 V2 News, Colorways, Releases