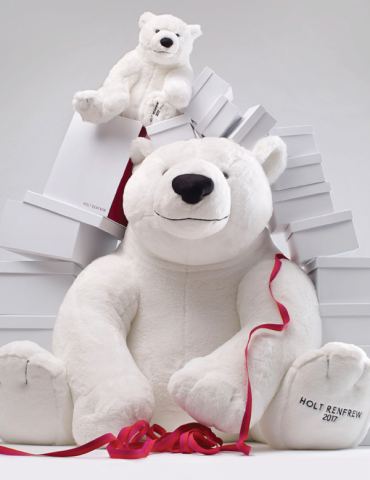 High-end Canadian department store Holt Renfrew has some reasonably priced soft toys that give back to the World Wildlife Fund to help preserve the Arctic ecosystem and Cuddle + Kind, which provides meals to impoverished children.
The two specially-designed Gund-brand Holt Renfrew Holiday Polar Teddy Bears sell for $55 each, with a generous portion of the purchase price, going to WWF.  "While polar bears are the largest bears in the world, they remain endangered as oil and gas exploration and unsafe shipping threaten their snowy Arctic home," it says in the item descritpion.
"As the Earth warms and sea ice melts, wildlife such as polar bears, whales, and caribou face the loss of their habitat. We work with communities to conserve Arctic ecosystems and wildlife while building a sustainable economy," says WWF-Canada in an accompanying statement. "When you purchase a Holt Renfrew Holiday Bear, $10 to $30 will go towards making this work possible."
A selection of Cuddle+Kind goods, including penguin dolls ($65-$85), veggie baskets ($45), hand puppets ($25) and Dog & Daisy hats ($40 in-store only), are also for sale. The dolls — Everest the Penguin, Aspen the Penguin and Wyatt the Fox — are hand-knit by female artisans in Peru and each purchase provides 10 meals to children around the world, including North America.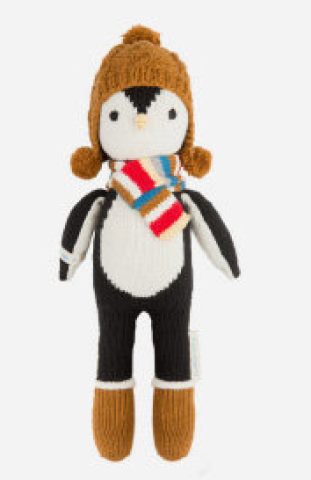 Milton, Ontario-based Cuddle+Kind was founded by Jennifer and Derek Woodgate in September 2015, and thus far sales from their soft toy dolls has enabled them to donate over 2 million meals to impoverished children, according to stats on its web site. The meals are provided in partnership with World Food Program USA, Children's Hunger Fund and Breakfast Club of Canada.
The WWF, which began 50 years ago, has evolved as an organization from protecting particular wildlife species and habitats to protecting life on Earth.
It is also in the midst of a five-year plan that matures in 2020 and is committed to:
a healthy future for the Arctic; all freshwater systems in good condition; healthy marine wildlife and ecosystems on all three coasts; and resilient communities co-existing with healthy nature across the country, according to its web site.
The meals that are donated include complete nutritious meals including rice, pasta, beans, vegetables and meat, to nutrient fortified biscuits and date bars depending on the location and program. The Woodgates' goal is to eventually provide 1 million meals a year through Cuddle+Kind sales and donations.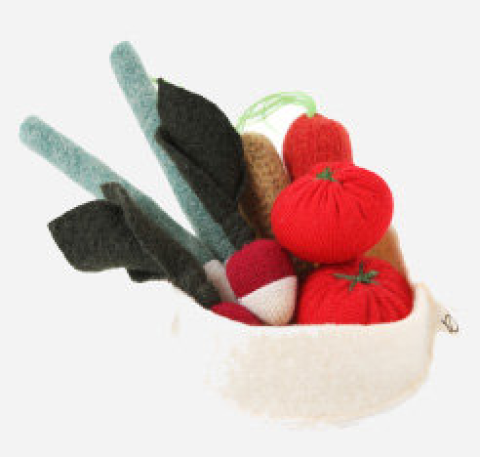 Holt Renfrew has consistently demonstrated a strong commitment to charity, beginning with 2013's H Project, an in-store shop that supports global cultures, crafts and artisans. The shop features items made that are socially responsible, sustainable and fits within the Holt Renfrew fashion luxury ethos, offering exclusive designer collaborations and creating unique merchandise opportunities to support worldwide charitable partnerships.
Uncrate India, FEED totes and mittens to benefit Movember are some of Holt Renfrew's past initiatives.
Holt Renfrew also supports local and national charities. Programs include Charitable Shopping Nights whereby registered charities can use Holt Renfrew spaces to engage in a luxury private shopping event, with the retailer donating 10% of all sales made to the group's charity or charity of choice.
Holt & Renfrew was founded in Quebec City in 1837 by William Henderson as a fur and hat shop, went through several ownership changes and was eventually bought by Galen and Hilary Weston in 1986. There are currently seven high-end retail Holt Renfrew stores in Toronto, Montreal and Vancouver.
Footpatrol x The North Face will keep you warm... In style! - Fashion Inspiration and Discovery