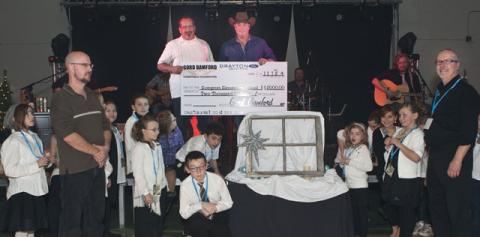 One of the toughest things country artist Gord Bamford had to do as a child growing up in Lacombe, Alberta, was sell off his pet cattle. Sure, it's not your typical childhood problem, venturing as far as it does from goldfish-dying-and-subsequent-burial territory, but it does highlight one of the unique experiences Bamford had as a member of youth development program Alberta 4-H, which, in turn, has influenced his continuing support of the organization — and other youth-focused, community initiatives — through his Gord Bamford Charitable Foundation.
Created in 2008, the foundation offers under-privileged youth and single parent families in Canada access to equal opportunities by providing financial support towards education, health care and music with an additional focus on the construction or improvement of multi-use facilities in local communities.
That mission is homegrown, emanating from Bamford's own biography: he was born in Traralgon, a small city with an agricultural history, in Victoria, Australia, but moved with his mother to Lacombe at the age of five after his parents divorced. His mother headed a single-parent home and encouraged Bamford to engage in his new community by joining 4-H, the Big Brothers, Big Sisters program and participating in sports such as minor hockey and baseball. Those early experiences were transformative.
"I spent a good number of years with 4-H on the beef cattle side of things — raising animals, budgeting money, [participating in] show dates where we got to show our cattle; then there were sale dates where you'd sell your animal," Bamford tells Samaritanmag. "I grew up in a farming community and it was one of those programs that taught me life skills. I was heavily involved in athletics as well but the [4-H] program talked a lot about giving back to other communities."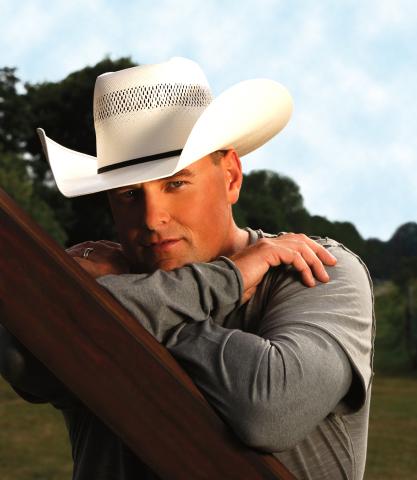 Bamford took that philanthropic lesson to heart. His foundation not only hands over sizeable checks, it's also committed to multi-year initiatives that empower the charities it supports and encourage the youth those charities serve.
The "Why 4-H is Great Community Concert Contest," for example, is currently in its third year and asks local 4-H clubs and branch members from ATB Financial, the program's sponsor, to submit creative videos on why 4-H is great for local communities. The winning region plays host to an exclusive concert and every ticket sold goes back to 4-H. Bamford also takes time to lead mentoring sessions with local youth before the show.
"The kids get a chance to come and ask questions not just about the music business, but about my days with 4-H and about how I became successful and where I'm at today," explains Bamford whose most recent success is six Canadian Country Music Association Award nominations for his latest album, Is It Friday Yet? "The other component is there's a contest that runs specifically for 4-H members who may be musically inclined to open our show."
Last year, over 500 people attended the concert in the winning region of Killam, Alberta. The event raised over $13,000, bringing the two-year fundraising total to more than $20,000 since the contest started.
4-H is also the beneficiary of the "Rural Roots 4-H fundraiser" that gives 4-H clubs a powerful fundraising tool that splits the profits from select Bamford albums. For every $20 album sold through a local 4-H club, $10 goes back to Bamford, $5 goes directly to that particular 4-H club and $5 goes to a charitable organization of the club's choosing.
The flagship fundraising effort of the foundation by far is the Gord Bamford Charity Classic Golf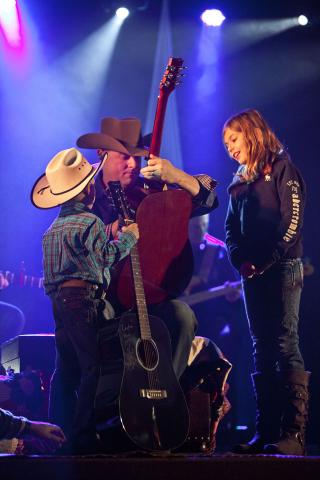 Tournament. Now in its fifth year, the tournament has raised close to $1 million for various charities. In the past, those funds have benefitted the Make-A-Wish Foundation, Big Brothers, Big Sisters and the Ronald McDonald House Charities. Traditionally, the tournament supports four or five organizations per year and Bamford and his board are currently reviewing this year's requests.
The event will be held on July 31 to August 1 in Lacombe and in one of its more unique approaches will auction off Canadian celebrities, such as fellow country acts Chad Brownlee, Dallas Smith and Hey Romeo, for a round of golf.
"We have a gala night called 'Hits and Heroes' where the artists sing one of their hit songs and a song from one of their heroes and then they get auctioned off to golf with," explains Bamford. "In Western Canada, this is one of the most prestigious golf events. It sells out in under 24 hours and it's become something that we can't explain but it's been pretty amazing.
"It's probably the best thing that I do: for me to give back is a very humbling thing," he reflects. "There's nothing like it: we gave a $10,000 donation this year to Make-A-Wish Foundation for some little girl or boy to fulfill their dreams. There's not a better feeling in life than to be able to hand over a check to a young child like that and see the smile on their face. It kind of sums it all up for me; it's what it's all about."
Sean Cliver Nike SB Dunk Low Holiday Special DC9936-100 Release Date