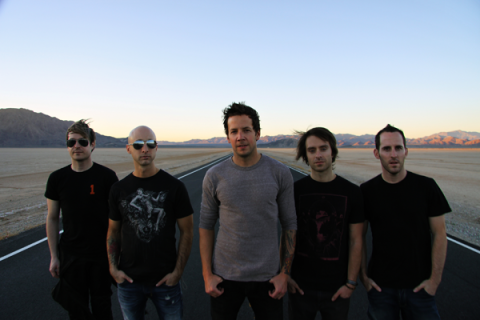 There is not a lot pop-rock band Simple Plan does these days that doesn't involve charity from its latest involvement in Kids Help Phone's True Colors anti-bullying campaign to last week's benefit luncheon for The Simple Plan Foundation. Now, the Montreal five-piece — and winners of the 2012 Allan Walters Humanitarian Award at the Juno Awards — is donating a percentage of the profits from a new hardcover book, Simple Plan: The Official Story.
Published by La Presse, the 304-page tome — available in Chapters bookstores Nov. 30 for $34.95 and already released in a French-language version Nov. 8 — was written by Quebec journalist Kathleen Lavoie of the newspaper Le Soleil and is part biography, part photo album, part scrapbook.
Since releasing their first album as Simple Plan a decade ago, the band has sold more than 9 million albums worldwide and Lavoie has followed their career since the beginning.
"We are hoping to raise as much money as possible for the Simple Plan Foundation with the sale of this book," Simple Plan frontman Pierre Bouvier tells Samaritanmag. "It's our first time publishing a book so we don't really know how many copies we will end up selling, but La Presse and the band are committed to donating 10 percent of the proceeds of the book to the Foundation."
Through their Foundation, Bouvier, drummer Chuck Comeau, guitarists Jeff Stinco and Sébastien Lefebvre, and bassist David Desrosiers have donated more than $1 million to various organizations that help troubled youth.  Next March, they will again be honoured for their philanthropy, during Toronto's Canadian Music Week, when they receive the Allan Slaight Humanitarian Spirit Award.
"The Foundation has become an integral part of who we are as a band," says Bouvier, "and in every project that we take part in, we try to find a way to raise money for young people in need. That's been our way to give back and get involved. It's one of the many ways we raise money for the Foundation on top of our annual benefit events. In addition to the $1 on each [concert] ticket sold, the Simple Plan Sher-wood hockey stick project and many other projects, these initiatives give us a chance to grow the Foundation and to always try to donate more money, year after year."
『アディダス』に分類された記事一覧