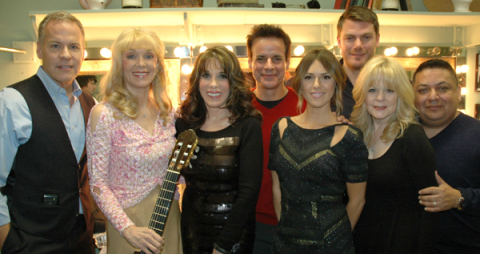 A High Tea at Toronto's Fairmont Royal York hotel featuring actors from the No.1 North American soap opera Young & The Restless grossed over $50,000 for March of Dimes Canada's promising education program for young children with severe physical disabilities.
Kate Linder (Esther Valentine on Y&R), Christian Le Blanc (Michael Baldwin), Tracey Bregman (Lauren Fenmore Baldwin), Elizabeth Hendrickson (Chloe Fisher) and Jeff Branson (Ronan Malloy) spent more than four hours at the afternoon tea, Dec. 2, followed by a meet 'n' greet and autograph signing, reports March of Dimes Canada president/CEO Andria Spindel.
The funds raised from sponsors, ticket sales, and silent and live auctions will go to a pre-school and early grades Conductive Education (CE) program.
"CE is still relatively new in Canada, though March of Dimes has offered programs since 1998," Spindel tells Samartanmag. "Developed in Hungary after WWII, it has been adopted in many countries as part of the education system or as a health service, but in Canada service is still very limited as trained conductors are professionals trained abroad.
"March of Dimes has subsidized almost a dozen Canadian students to enable them to study in England and acquire the Honours BA in Conductive Education, enabling them to practice at the CE Center operated by March of Dimes in Toronto or in its Halifax-based program."
March of Dimes Canada provides support services to people with disabilities, their families and caregivers across the country. Its goal is to enhance the independence and community participation of people with disabilities.
The inaugural "OpportutiTeas with Kate Linder and Friends," — co-presented by Global Television and Mereadesso Cosmetics — sold out in days, before it was even publicly announced. More than 360 people attended at $80 each. Those who weren't able to get a ticket had the option of putting their name on a waiting list for next year's event.
Linder conducted the live auction for which she brought a number of costumes worn by cast members. Le Blanc and Y&R hair and make-up artist Patti Denney donated their own paintings. Denney and fellow Y&R hair and make-up artist George Guzman also auctioned off an on-the-spot makeover.
However, the biggest item up for auction was a trip for two to Los Angles, plus hotel, and a visit to the Y&R studio with a tour conducted by Linder.
"The bidding was so boisterous and competitive [for the on-set visit] that Kate succeeded in getting three bidders each for $5000 and March of Dimes Canada agreed to get the travel arrangements for all six guests so no one would be disappointed," Spindel says.
Global TV anchor Leslie Roberts co-emceed the event, which also included a question and answer session. Guitar legend Liona Boyd performed three songs. Guests went home with a gift bag as well. Inspire Cosmetics was the "Red Carpet Sponsor."
Linder visited the Conductive Education classrooms during her stay in Toronto, where she met the children and spoke with one of the parents, Claudio, about the tremendous progress his son has made in the program.
"The Conductive Education program combines cognitive learning and motor-learning, or education and rehabilitation, in a holistic intervention that has tremendous benefits for people with a range of disabilities that includes cerebral palsy, stroke, multiple sclerosis, and other neurological problems," Spindel explains.
"The children in the CE program at March of Dimes Canada are enthusiastic learners, who thrive in the small group learning environment that is provided by qualified conductor-teachers and show improvements that have wowed their parents and health professionals."
Air Jordan 1 Retro High OG "UNC Patent" Obsidian/Blue Chill-White For Sale