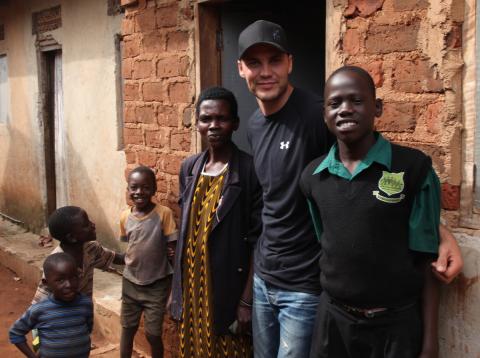 It's a long way from Vancouver to Uganda, but Canadian-born action star Taylor Kitsch (John Carter, Battleship) has embraced Africa to the extent that he reportedly has "hakuna majuto" — Swahili for "no regrets" — tattooed on his ribcage.
A longtime fundraiser for the African Children's Choir, Kitsch's love affair with the continent reaches new heights this year with his filmmaking debut, a fundraising documentary about the Children's Choir — and its associated charity Music For Life — that took him to slums and trouble spots in Rwanda, Kenya, Uganda, South Sudan and South Africa last year.
"It's my number one charity, so it was a natural project," Kitsch tells Samaritanmag.com, during an interview for the film John Carter in Carefree, Arizona. "I produced, shot and edited everything."
Portions of his African video diary are viewable on YouTube.
Founded in 1984, the African Children's Choir is an international initiative that takes children from ages 7-12, "feeds them, houses them and directs them in choirs that travel the world to raise awareness and money for their villages back home."
Kitsch, 30, is best known to TV fans for his five seasons as bad boy Tim Riggins on the high school football series Friday Night Lights.  His ties to the charity date back to those days when castmate Connie Britton -- who was already active in Bono's One Foundation -- was directed towards the choir by organizers there. She convinced Kitsch to join her on an introductory tour of Kenya. "Connie really pushed me into it, five years ago," Kitsch says.
His commitment intensified with his first feature starring role in Steven Silver's 2010 film The Bang Bang Club, in which Kitsch played real-life South African journalist Kevin Carter, who helped chronicle the violence that accompanied the death throes of apartheid. "It's life-altering to be there and see what people struggle through," he says.
Nike sneakers