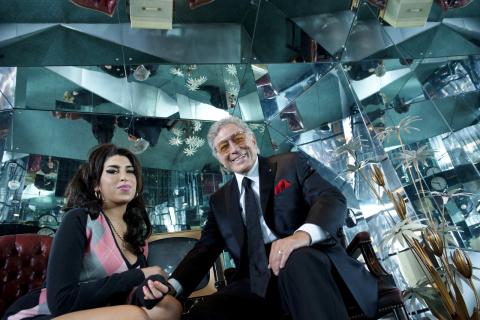 The Amy Winehouse Foundation, which will benefit various youth and children's projects and charities throughout the world, is now active, but until it is fully up and running, Comic Relief in the U.K. and America Gives Back in the U.S. have set up The Amy Winehouse Fund to receive donations in her name, according to a posting on the official web site.
In addition to direct donations, the proceeds from a brand new song with Tony Bennett, her last studio recording before her untimely death in July, will go to the charity.
The duet, called "Body and Soul," was recorded on March 23 of this year at the famed Abbey Road Studios in London, England. A video has also been released, which is part of a bigger documentary on Bennett that was filmed by Academy Award-winning cinematographer Dion Beebe (Chicago, Memoirs of a Geisha) for his new collaborative studio album, Duets II.
"We had a beautiful time recording together in the studio and I knew that Amy was very happy with how she performed that day," Bennett said in a statement for Sony Music.  "I thought she was absolutely brilliant and this recording truly captures the essence of her unique artistry. She was a rare talent."  
The 27-year-old British singer, whose 2006 sophomore album, Back To Black, topped charts internationally and won five Grammys, was found dead on July 23. Almost immediately the family began taking the steps to create a Foundation in her name.
"I was in New York when I received the terrible news about Amy," her father, Mitch, said in a statement issued by the Foundation. "It was almost instantaneous, this feeling that we need to help people she cared about.  Amy was very generous and we kept coming back to the thought of how much she loved children.  It seemed appropriate that the focus of our work should be with young people, those who are vulnerable either through ill health or circumstance.  Amy touched millions throughout the world and I know she will continue to, through the Foundation." 
The Amy Winehouse Foundation's mission statement is to support charities and organizations undertaking charitable activities in both the United Kingdom and abroad who help, support, or care for young people — especially, but not exclusively those who are in need by reason of ill health, disability, financial disadvantage or addiction.
"We want to give money to projects that make a direct difference," said Amy's mother, Janis. "It is a source of great comfort to know that Amy would be proud of this and right behind it." 
Nike Air Max 200