Penguins wearing tiny hand-knit sweaters. The optics are unbeatable, and the backstory compelling: penguins drenched in oil as a result of an oil-spill accident are protected in "penguin sweaters" that keep them warm and prevent them from preening — thereby ingesting the toxic substance coating their feathers — until animal rescuers can corral and wash them.
The penguin-sweater concept, which apparently originated with the Phillip Island Nature Park oil spill in Australia in January 2000 (the origins story seems to vary), gained real momentum and grabbed international headlines in 2011 following the Rena oil spill off the coast of Tauranga in New Zealand, in which the container ship MV Rena was grounded on the Astrolabe Reef, causing New Zealand's worst maritime environmental disaster.
Many indigenous marine animals including New Zealand's beloved and diminutive Little Blue Penguins were coated with oil; Wikipedia posits that some 2,000 seabirds died overall as a result of the accident. But the Rena spill also triggered the penguin sweater — or "penguin jumper" in local parlance — movement in earnest. And that was largely spearheaded by Maree Buscke, operator of the Skeinz Natural Yarn Store in Napier on the eastern coast of the North Island and something of an accidental environmentalist and activist.
"I first heard about it when a customer in our store asked me to help knit jumpers for her daughter who was a veterinary student helping with animal recovery at the Rena spill in Tauranga," Buscke tells Samaritanmag in an email.
"I knitted a couple of jumpers over a weekend with another friend — at that stage animal rescue workers were able to clean the birds immediately as they came into the rescue centre.  Then a nasty weather system was forecast to hit the wreck and break it up entirely before the oil could be pumped off.
"The concern was that so many penguins would become affected that would not be able to be cleaned quickly. I was asked to help gather two-to-three dozen jumpers very quickly.  So I emailed a note out to our small database of knitters at the time and within 24 hours the story had gone viral amongst NZ news media and within a week it was a viral story internationally."
And the penguin sweaters poured in; some 5,000 initially by Buscke's reckoning. However, not everyone was on board with the idea.
In a blog bluntly titled "Why Sweaters on Birds are Bad" and posted on the website of the renowned California-based International Bird Rescue in October 2011, director emeritus Jay Holcomb criticized the practice, arguing that the sweaters stress out the birds, stop them from thermo-regulating, and cause more damage by pressing the oil against the birds' skin.
"In every oil spill where we have cared for penguins we have had at least an 80% release rate, and none of these birds wore sweaters," Holcomb wrote. "Our colleagues from around the world agree that penguin sweaters are adorable and offer an avenue for concerned people to contribute, but they are not considered a useful tool for the rehabilitation of oiled birds, primarily penguins. In fact, they are seen as a risk to the birds."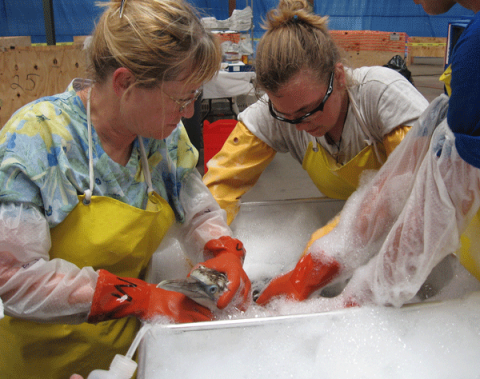 "The idea that you have to clean a bird the minute it is oiled is a misconception. We generally wait 24 to 48 hours to clean a bird," Sarah Tegtmeier, oil programs manager with Delaware-based Tri-State Bird Rescue & Research, tells Samaritanmag from her Delaware office.
Tri-State was the lead wildlife responder during the horrific, BP-caused oil spill in the U.S. Gulf states in 2010 where they managed four oiled wildlife centers in Louisiana, Florida, Mississippi and Alabama as well as multiple oiled wildlife stabilization sites in Louisiana and Florida. "With any animal or bird affected by an oil spill, the most important thing is that they are medically stabilized," Tegtmeier continues.
"We want to make sure they are warmed, well-hydrated, that they are receiving nutrition and that they don't have any other major injuries. And we try and keep them in a controlled environment. If you put a highly stressed bird into a washtub, the whole washing process becomes very stressful. We want them stable and medically able to handle the wash process."
As for the penguin sweaters, Tegtmeier seconds the International Bird Rescue statement while noting that "if the sweater doesn't fit right, it can cover the vent where they eliminate, so fecal matter can be pressed up against their skin which can cause permanent feather damage, follicle damage that will eat away at the feathers."
Tegtmeier admits that oil-affected birds will ingest some oil during preening before they can be washed. "But what we find is that they are preening less in an indoor condition because they are not getting cold and we are constantly monitoring them and flushing their systems through hydration and nutritional support."
These days, the penguin sweaters being knitted and forwarded to Skeinz Natural Yarn Store are symbolic and are placed on stuffed penguin mascots which are then sold to finance the Skeinz Penguin Rescue Fund, which supports ongoing penguin care and rehabilitation.
"Thousands of dollars have so far been distributed amongst Royal Forest and Bird Protection Society of New Zealand who helped handle the Rena clean up," Skeinz's Buscke writes.  "We have also sponsored the Little Blue Penguin Burrow Box programme at the Cape Sanctuary on Cape Kidnappers.  We have more funds being collated for distribution during the first quarter of 2014."
All of which brings us to renewed interest in penguin jumpers.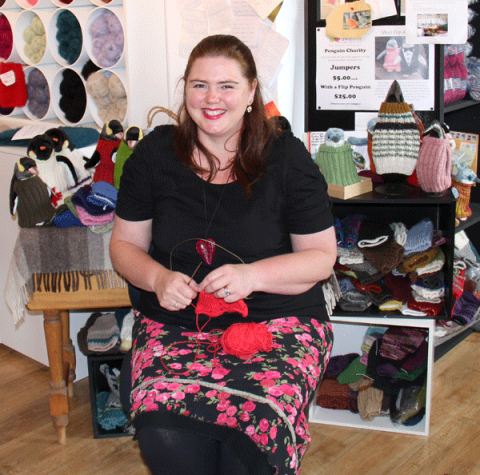 "After Christmas this year we got down to the last few dozen jumpers and in order to keep the fund alive, we have had to make the call again to see if people would be happy to knit jumpers for fundraising purposes," Buscke writes.
"I am glad to say they have been trickling in.  As these jumpers are for the mascots, we ask that they are in bright colours, as the recipients are mostly children, and preferable, but not essentially, wool." Knitters wanting to knit their own penguin sweater can find the pattern here. A crochet pattern is also available.
While the penguins of New Zealand appear safe for the moment, the Herculean work of agencies such as Tri-State Bird Rescue & Research never ends. Says Tegtmeier, who has been involved in wildlife rehabilitation since 1998, joining Tri-State in 2002, "Tri-States has a dual function.
"We have a wildlife clinic that focuses on the tri-state area of Delaware, Pennsylvania and New Jersey plus Maryland. We rescue birds that have been hit by cars, attacked by cats, orphaned in the summer. And we have the oil spill response team which is a separate program from our clinic.
"That team is ready to respond to oil spills anywhere with about a two-hour callout time. I joined that team in 2005. It's really nice to have these two areas of focus so the clinic is not disrupted when we run down to the Gulf for eight months as we did in 2010. We were the lead responder and of course we called on out colleagues from international bird rescue. It was a wide, long-term response."
Air Jordan 1 Mid Pine Green/White-Black-University Red For Sale