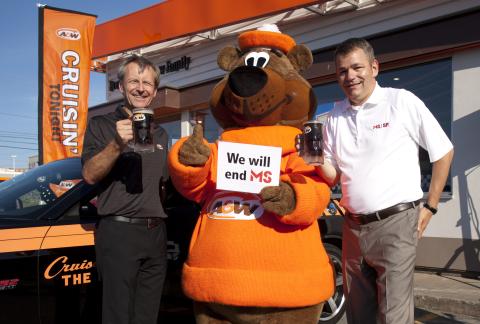 Paul Hollands might be the president and CEO of A&W Food Services of Canada but it's the participation of all the executives, franchise owners and staff at the iconic fast food chain that has made its Cruisin' for a Cause charity day so successful — and fun.
"I'd like to say I can take credit for cooking up this idea, but the roots of this are much deeper in the organization," Hollands tells Samaritanmag of the annual event, which sees $1 from the sale of every Teen Burger donated to the Multiple Sclerosis Society of Canada. "All of our franchisees are very engaged in their communities and they've found ways to help support the success and health of those communities."
The fifth annual Cruisin' for a Cause takes place this Thursday, Aug. 22 at all 785 A&W locations across Canada. To date, $3 million has been raised through the fun 50s-themed initiative.
It was six years ago that a number of key A&W franchise owners and head office executives discussed what they could do to make a bigger charitable impact beyond what they were doing on a local level.
"There was a real sense we could make a difference on a national scale," Hollands explains.
"It was really a collaborative effort between our franchise operator and our team here (at A&W's head offices in North Vancouver), and through a series of discussions we came up with MS."
Last year alone, Cruisin' for a Cause raised more than $1.4 million for the MS Society, making A&W the charity organization's largest corporate donor.
Founded in 1948, the MS Society funds research into the neurological disease, which can affect balance, vision, speech and mobility. It also provides several services for people with MS and their families, including counseling, social and recreation programs and financial assistance. There is no known cure for MS, which is diagnosed in adults between ages 15 and 40.
"I think one of the things that made this charity the perfect fit, particularly for the franchise owners, is that many of them know one, two or three people — often friends or family — who have been impacted by the disease," says Hollands. "Furthermore, they've benefitted from the support services the MS Society provides right across the country. There was such a strong resonance with all the people in our organization."
The inaugural Cruisin' for a Cause was held in Saskatchewan in 2009 and was more of a pilot project. Hollands set a modest goal for the participating restaurants, many of which ended beating their targets by 50 percent.
Emboldened by the positive response, A&W rolled out Cruisin' for a Cause countrywide the next year. By the third year, the event was raising more than $1 million.
"We're thrilled to bits," Hollands gushes. "But more than anything, it gives us confidence that maybe we can raise $2 million if we really bring attention and energy to it."
Hollands credits Cruisin' for a Cause's impressive fundraising to the operators and staff at A&W's restaurants across Canada. Because of their unique ways of connecting to their communities, he says, the event has gained traction in a relatively short period of time.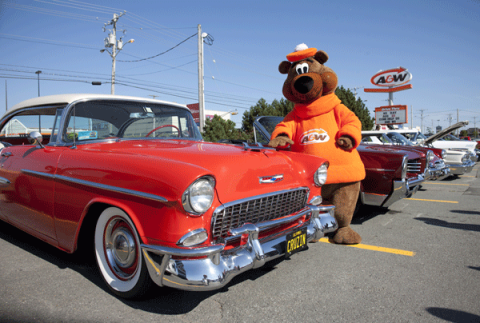 Hollands cites Cruisin' the Dub events, which happen between May and September and feature classic cars on display in A&W parking lots, as one of the great ways A&W restaurants raise additional funds and awareness for the Cruisin' for the Cause day.
As well, many restaurants run 50/50 draws, silent auctions, games and car washes to attract customers and make even more money for the MS Society.
"It's boundless the things they can come up with," he says. "If they only did what head office put together, we'd probably only raise half of what we do. But our ability to grow this really comes from the creativity of the people on the frontlines of the business."
Hollands visits between six and 10 restaurants during Cruisin' for a Cause and says the feedback he receives from those living with MS that come out to the fundraiser, as well as their friends and family, is gratifying.
"The thing I've heard consistently is how much they appreciate how we've put a spotlight on the issue and how it makes them feel to be recognized," he says. "The whole program gives them a sense of recognition and a feeling that someone cares and that the community is trying to make a difference."
And making a difference is something Hollands has endeavoured to do since he was a child in Duncan, B.C.
"I grew up in a small town and one of the things you get in a small town is a sense of how important communities are," he says. "As a teenager, you do [charitable] things here and there."
Since joining A&W's marketing department in 1980 and becoming company president 12 years ago, Hollands has shared the faculty advisory board at the University of British Columbia's Sauder School of Business, as well as taking on a leadership role in Vancouver's St. Paul's Hospital Foundation.
"About 20 or 25 years ago, a number of things became clear to me," he recalls. "One of those was that you can make a difference in your community, and if you're going to have a great life, you have to figure out how to do that."
While Hollands maintains the main role of enterprise is an economic one, he believes businesses have unique skills and access to resources that should be applied to the benefit of their communities.
"I think if you're going to have a successful enterprise in a successful community, you need to find your unique way to give back," he says. "Enterprises absolutely have their role. [Charity] is not the primary role, but they have a unique role in making their communities better, whether that's through philanthropy or simply donating talent. There are plenty of organizations that have specific policies about their people committing their time, skills or resources to charity and I think every organization needs to find its way of doing that."
NEW BALANCE