We hear the words corporate social responsibility a lot and see corporate logos at all kinds of charity events or on product packaging, but we don't usually hear the dollar figures or find out the details of the CSR platform. So kudos for Bell Canada for bringing a taboo topic out in the open in a major way.
The telecommunications giant has declared February 9 Bell's Let Talk Day to help open up dialogue about mental health issues. The initiative is just one small component of a $50 million, five-year pledge made last September by Bell president and CEO George Cope to the cause. According to the Canadian Mental Heath Association (CMHA), mental illness affects one in five Canadians in their lifetime.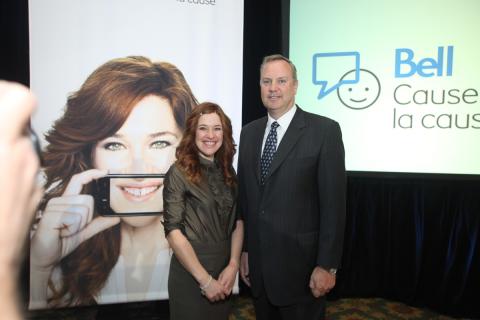 "For Canadians dealing with mental illness, stigma is the single greatest obstacle to getting the help they need," Cope said in a press statement. "That's why a significant anti-stigma effort is one of the key pillars in the Bell Mental Health Initiative. Only by talking openly and respectfully about mental illness can we move Canadian mental health forward. That's why we're asking everyone to join the conversation with Bell Let's Talk Day."
On this designated day, for every text message sent and every long distance call made by Bell and Bell Aliant customers, Bell will donate 5 cents to programs dedicated to mental health. Regular long distance and text message charges apply.
A major national TV, print, radio and outdoor campaign is already underway with Olympic gold medalist Clara Hughes as spokesperson. The Manitoba-born cyclist and speed skater, who has six Olympic medals to her name, has struggled with depression.
In one of Bell's commercials for Let's Talk, in which the corporation declares itself the "new leadership for a national health concern," Hughes says, "At times, we need others including leaders in the business world, like Bell, to be part of our larger circle of strength. There are a lot of organizations around the world that are doing tremendous good for philanthropic programs and I count Bell among them."
She goes on to say, "Mental health is a perfect case in point. It affects everyone, yet it impacts each of us differently on an individual basis and all too often the stigma surrounding it prevents people from getting the help that they need.  Bell understands that mental health is a huge issue and I applaud them for doing something about it."
The $50 million, five-year pledge is the largest-ever program undertaken by a Canadian corporation in support of mental health. The effort is focused on four pillars: anti-stigma efforts, improving care and access, research support, and new workplace initiatives.
According to the CMHA, people with a mental illness report that how others judge them is one of the greatest barriers to moving forward with treatment. The Canadian Medical Association found that just half of Canadians would tell friends or co-workers that they have a family member suffering from a mental illness, compared to the 72 percent that would discuss a cancer diagnosis. The Mental Health Commission of Canada reports that stigma is the primary reason two-thirds of people living with mental health problems don't seek help.
Bell's companion web sites, bell.ca/letstalk and bce.ca/mentalhealth, invite Canadians to post comments and questions, while learning more about mental health resources.
Nike