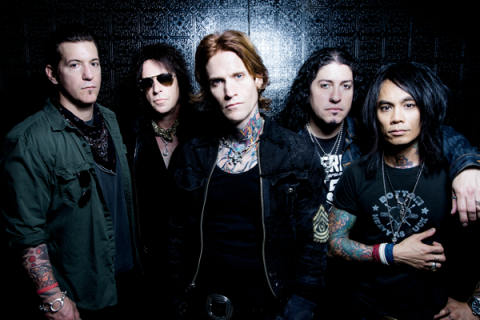 Buckcherry's forthcoming album, Confessions (out Feb. 19), is largely based on the seven deadly sins — greed, gluttony, wrath, you know 'em — but frontman Josh Todd possesses a few character traits that don't fit with this concept: compassion, generosity and sensitivity.
We find them not in his lyrics but in his actions.
The Los Angeles rock band — which has sold more than 2.8 million albums in the U.S. alone —  as a whole supports a number of causes and Todd himself is partial to any involving children: Childhelp for prevention and treatment of child abuse; Big Brothers Big Sisters of America mentoring young people; the Tony Hawk Foundation to build free public skateparks in low-income communities and St. Jude Children's Research Hospital.
About five years ago, Todd wrote two songs inspired by David Pelzer's memoir, A Child Called "It," about being abused as a child — one with the same title and "Rescue Me," both on their album Black Butterfly. Buckcherry then teamed up with Childhelp at the time to do a benefit concert in New York.
"We sold it out and raised $10,000 for Childhelp and it went to foster care. It just felt good," Todd tells Samaritanmag. "But the charity I think I give to the most is St. Jude's Hospital for kids with cancer.
"I'm a dad. I've got three kids. We had a close friend of ours lose a son to a different type of disease, and we went as a band to visit him in the children's ward [of another hospital]. I had never experienced something like that in my life. I don't even want to get choked up right now, but it was really hard to take," Todd says, sitting in a room at Toronto's Phoenix Concert Theatre before his concert.
"You can see it on the television and you can see a compelling story on a show, but when you actually see what's going on at these hospitals, what some of these kids are struggling with, it just rips your soul out. So naturally you want to do something about that."
Todd has donated to St. Jude Children's Research Hospital in Memphis, TN, for many years but hasn't physically been there.
Founded by Danny Thomas, the hospital is internationally recognized for its pioneering research and treatment of children with cancer and other life-threatening diseases. Its research has helped push overall survival rates for childhood cancer from less than 20 percent when the institution opened to almost 80 percent today, according to statistics released by St. Jude's. 
During the past five years, 81 cents of every dollar received has supported the research and treatment at St. Jude Children's Research Hospital. Public donations provide more than 75 percent of its funding, the web site states.
What's also fantastic for the families of ill children is that they don't have to pay the hospital for anything — including care, housing, transportation and meals.
"I feel as a person I'm evolving and changing all the time and I just want to do what feels right," Todd says of getting involved with causes and philanthropy in general. "I think that's the beauty of Buckcherry. That's why we've had our career for well over a decade without being in the mainstream at all. We've had this very quiet career all these years and I think part of the charm is we just remain true to ourselves and do what feels right."
Nike sneakers