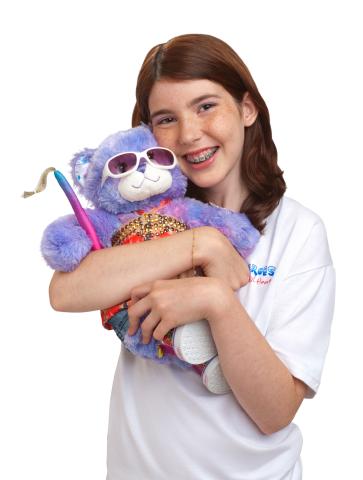 Over the past nine years, The Build-A-Bear Workshop Huggable Heroes program has found some impressive kids. The 400-store chain, which sells make-your-own stuffed animals, holds an annual search for young people, ages 8 to 18, who are trying to make the world a better place. This year, to mark the 10th anniversary, they are on the look out for 10 budding philanthropists.
Nominations are now open until Feb. 28. Visit the web site or pick up a form at Build-A-Bear stores in Canada, the U.S. and Puerto Rico.
According to figures from The Build-A-Bear Workshop, more than 100 Huggable Heroes honoured since the program launch in 2004 have collectively raised more than $9.4 million, collected more than 316 million items to donate and recruited thousands of volunteers to help with their various causes.
This year, the 10 winners will each receive $10,000, which includes educational scholarships, donation to a charity of their choice, and a mentoring scholarship to support their charitable entrepreneurships. The prize also includes a trip to
Build-A-Bear Workshop headquarters in St. Louis, Missouri, where they will be feted, and partake in other related activities.
The mentorship is through the prestigious Jefferson Awards For Public Service, founded 40 years ago by Jacqueline Kennedy Onassis, Senator Robert Taft, Jr. and Sam Beard, as a Nobel Prize for community and public service. Each of the 2013 Huggable Heroes will be paired with a mentor for a year through the non-profit organization's Globechangers program that will help them acquire and develop skills such as writing business plans, networking and fundraising.
"The young people who earn recognition as Build-A-Bear Workshop Huggable Heroes are natural leaders with creative and unique projects," said Beard in a statement. "We want to help develop their initiatives through our Jefferson Awards Globechangers training program. We have been impressed by the achievements of the Huggable Heroes from years past and are excited to meet the class of 2013 and help them build their programs."
 "It thrills us to know that as we search for our tenth class of Huggable Heroes we will be meeting more kids with new big ideas and endless energy to make a difference," Maxine Clark, Build-A-Bear Workshop founder, said in a statement.  "We are excited to build on a program that has recognized and reward these kids by adding a component of on-going training and mentorship. The guidance our Huggable Heroes will receive through the Jefferson Awards Globechangers program will empower these kids to take their projects to even greater heights."
Entries will be narrowed down to 80 semifinalists in March and 30 finalists in May. On June 6, the 10 Build-A-Bear Workshop Huggable Heroes for 2013 will be named.
adidas Yeezy 350