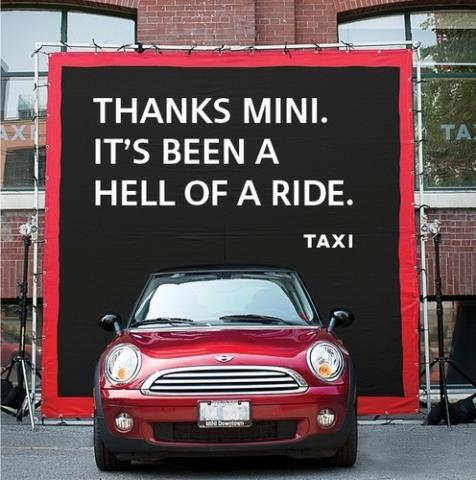 Parting isn't such sweet sorrow in the case of car brand Mini and advertising company Taxi Canada.
Taxi's downtown Toronto office has a Mini Cooper parked out front to much fanfare. No, it's not the insanely privileged parking spot of the agency's founder; its appearance there is more humble: Taxi is auctioning off the 2008 Mini and donating the proceeds to Covenant House Toronto.
The charity auction celebrates Taxi Canada's 10 years as agency of record for Mini, a relationship that garnered many accolades, including a Gold Lion at the Cannes Lions International Festival of Creativity (think of it as the Oscars of the ad world) and recognition from esteemed advertising awards such as the One Show, the Clio Awards and the Advertising Design Club of Canada.
Taxi and Mini amicably ended their working relationship this year, and the auction is Taxi's way of saying: "Thanks Mini. It's been a hell of ride." (A tagline that you can find prominently displayed on a banner behind the car).
But the auctioning off of Taxi's boardroom Mini (the one the agency used to drive to out-of-Toronto meetings with the company) isn't just about good PR for an agency and its former client; it's about Taxi's relationship with Covenant House Toronto.  As Canada's largest youth shelter, Covenant House provides crisis care, education, health care and employment assistance to youth between the ages of 16 to 24.
On any given night, 33,000 Canadians are homeless and as many as 11,000 of those are youth. Covenant House reaches about 4,000 of those kids annually.
"Taxi has been working with Covenant House for over 15 years," Taxi 2 executive creative director Lance Martin tells Samaritanmag about Covenant House's efforts. "We've done pro bono work for them, and whenever we have an initiative where we think about giving money to charity, we use them as our go-to."
Two recent initiatives saw Taxi clients Burger King and Boston Pizza donate lunches to Covenant House youth.
"Burger King donated Whoppers and we had Taxi people serve the kids. Earlier this year, Boston Pizza wanted to do something good, so we thought: 'Hey, let's bring pizza down to the kids' – they lined up around the block. There are clients who are always looking for opportunities to give and if we can help them with an idea of how they can do something good and we can help Covenant House, we always support them."
As an agency of creative thinkers, Taxi has a track record of also looking for opportunities to give, especially when it comes to homelessness. In 2007, the agency developed the 15 Below project, wherein they designed, made and distributed 3,000 water-and wind-proof coats that could serve as light-weight jackets, fold into backpacks and transform into insulated coats that withstand temperatures of up to -29 degrees Celsius when the lining is filled with crumpled newspaper. The jackets were distributed to the homeless in four major cities across Canada with the assistance of the Salvation Army.
For the Covenant House charity auction, there's still time to bid. The auction closes on July 14 and is housed at visit taxi.ca/goodbyemini.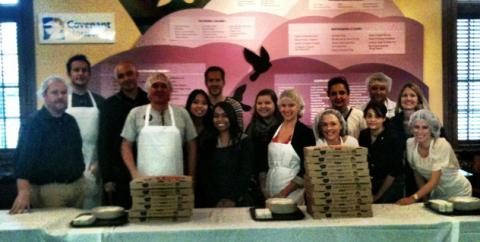 nike lunar janoski black and gold swoosh blue