Terri Clark, Michelle Wright, Dean Brody, Ridley Bent and Emerson Drive join another two dozen Canadian country artists on the charity single/video "Standing Strong and True (For Tomorrow)," dedicated to Canada's fallen soldiers and their families. Proceeds go to the Military Families Fund and Boomer's Legacy, which helps the people of Afghanistan.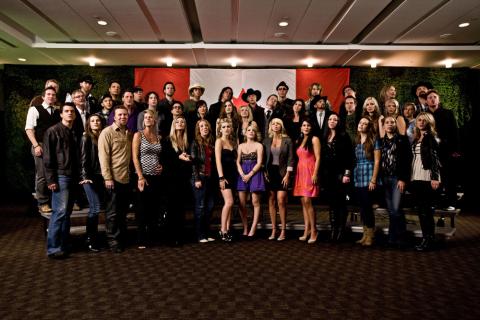 The song, which opens with the bagpipes of the Naden Band of Maritime Forces Pacific (under Lieutenenant Rob Byrne), was produced and engineered by Kevin Churko (Shania Twain, Celine Dion, Ozzy Osbourne, The Corrs) and Tom McKillip (Aaron Pritchett, One More Girl, Lisa Brokop).
The majority of the singers are signed to Open Road Recordings and EMI Music Canada so the two labels have joined forces to promote the song to radio. EMI made the single and video available for purchase digitally at iTunes ($1.29). The video was produced by Fahrenheit Films and has been serviced to CMT Canada.
In a press statement on behalf of Canada's soldiers, sailors, airmen and airwomen, General Walt Natynczyk, CMM, MSC, CD, Canadian Forces' Chief of the Defence Staff said: "This song and the charitable proceeds generated by it will do a lot of good both here in Canada for our military families, through the Military Families Fund, and also wherever our troops are deployed and are working to help others, through the ongoing project funding efforts of Boomer's Legacy."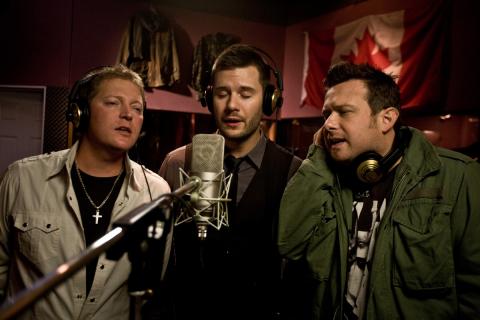 Also featured on the track are Aaron Pritchett, AJ Woodworth, Alex J Robinson, Beverley Mahood, Chad Brownlee, Doc Walker's Chris Thorsteinson, Crystal Shawanda, Diane Chase, Hey Romeo, Jake Mathews, Jamie Warren, Jason Blaine, Marshal Reign's Jason McNabb, Jaydee Bixby, Jessie Farrell, Jo Hikk, One More Girl, Sean Hogan, Stacey McKitrick, Tara Oram, The Heartbroken, The Higgins and Victoria Banks.

Written by Ron Irving, Lynda McKillip and Tom McKillip, the bedtracks for "Standing Strong and True (For Tomorrow)" were recorded first at The Armoury in Vancouver and then the vocals cut in Edmonton at Homestead Recorder when the artists were in town for the Canadian Country Music Awards. More tracking and mixing was done later at The Hideout in Las Vegas.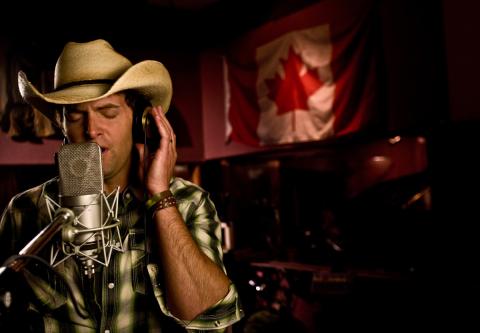 "Our Canadian troops have always been there to aid those in need," Clark said in a press statement about her involvement with the charity song. "My grandfather and his two brothers fought with the Canadian Royal rifles in the second World War and were all held as prisoners of war for four years. Both of his brothers perished in the camps and my grandfather came back alone. I am so proud to get to be a part of something to honor not only his memory, but all the Canadian troops and their families."
"After spending time with our Troops in Afghanistan, I think about these brave young heroes often, wishing them home safely. This song speaks well for all Canadians wanting the same," stated Mahood.
The project originated with Barry Stecyk of HevyD's Kettle Korn and Fabian Dawson of Postmedia Network Inc. 
ABOUT MILITARY FAMILIES FUND www.cfpsa.com/en/corporate/mfamily/faq_e.asp

The Military Families Fund (MFF) was created in April 2007 by General Rick Hillier, the former Chief of Defence Staff, to assist military families faced with unforeseen and often immediate needs that have resulted from military conditions of service. The fund continues to grow through the generous contributions of Canadians, corporations and other organizations, adding a new vehicle to support Canadian Forces members and their families. The MFF enhances and complements, it does not replace, existing public and non-public programs. The Fund fills the gaps by providing for the unforeseen and often immediate needs that families may have due to conditions of service. The MFF allows for several areas of support by way of grants, including rehabilitation, education, financial assistance in the case of injury or death of a Canadian Forces member due to service.
ABOUT BOOMER'S LEGACY  www.boomerslegacy.ca
The Boomer's Legacy Foundation, named in honour of Corporal Andrew James  "Boomer" Eykelenboom, a Canadian military medic who was killed by a suicide bomber in Afghanistan in 2006, was developed to aid the women and children in Afghanistan.  Monies raised for the Foundation will be used to directly support the people of Afghanistan affected by poverty and war with an emphasis on programs and services for women and children. The funds will be expended through Canadian Forces' Task Force Afghanistan using the Assistance to Afghanistan Trust Fund, under the authority of the Commander, Task Force Afghanistan.  To date, all collected monies have been spent on items such as food, medical equipment, educational supplies, clothing, and mechanical parts and equipment.
Air Jordan 1 Retro High OG "UNC Patent" Obsidian/Blue Chill-White For Sale