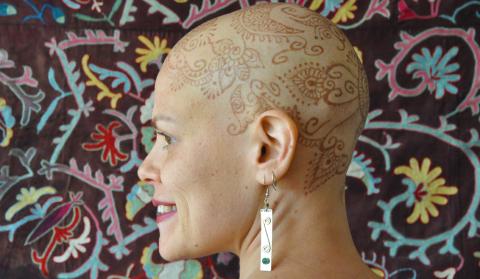 If the best way to de-stigmatize something is to boldly put it under people's noses, then Frances Darwin's Henna Heals is making conditional female baldness both acceptable and, perhaps improbably, kind of chic. 
The Toronto-based photographer's company provides a novel service: beautiful designs applied to the smooth skulls of cancer patients who've lost their hair due to chemotherapy using naturally sourced henna dyes.
The swirling, intricate drawings, which are safe, temporary and applied by skilled artists, command the eye to the head of the henna wearer, inspiring awe rather than pity while offering an alternative to wigs or hats.
Perhaps more importantly, these henna "crowns" offer women suffering hair loss -- and the accompanying lost sense of femininity that brings -- a chance to feel uniquely lovely while inviting gentle dialog about a tricky subject. Darwin's ensuing photo shoots capture it all for posterity.
While most corporate taglines are studies in hyperbole, the mantra for Henna Heals powerfully drives home their mission: "We want to empower you. We want to help you feel beautiful, and give you the confidence to be a walking work of art."
As Henna Heals founder Darwin tells Samaritanmag, the concept for her for-profit "social-purpose business" (provisions exist for those unable to afford it) struck in the summer of 2010 in San Francisco where she was then living and working as a "maternity photographer." A meeting with Darcy Vasudev, a world-renowned henna studio operator, set the wheels in motion.
"Initially, the idea was for Darcy and me to offer henna designs to pregnant mothers, you know, henna designs on their bellies [something Darwin's photography clients can currently get]. Darcy mentioned this woman, Tara Schubert, who had breast cancer and who had a henna design created on her head as she was going through chemotherapy.
"I thought that would be an amazing thing to photograph, so Darcy put me in touch. During one of our photo shoots, Tara actually said to me, 'I've never felt this beautiful, even before I had cancer." I couldn't believe it.
"I think the process of being photographed also made her feel beautiful. In our society, when people are photographed they are usually famous or beautiful, so my taking Tara's photograph made her feel more desirable. That coupled with the power of her henna crown made her feel completely unstoppable."
Though Schubert died last April, the transformative potential of the henna crown idea was sealed. Darwin launched Henna Heals in 2011.
"It began with a workshop, which we held in May of last year, training three local henna artists about applying the crowns. It was led by me and Montreal-based henna artist Luma R. Brieuc who had created several henna crowns for cancer patients living in Montreal, and who gave tips for applying henna to the head. We had three volunteers that day -- one cancer patient and two women with [genetic hair loss affliction] alopecia, and that was the beginning."
Darwin adds that for women with alopecia -- who are more accustomed to living without hair -- the henna crown application functions more as a spa treatment that a salve. Still, Darwin admits her business is highly niche and slow-growing, though she is inventive in her bids to snare attention.
For example, Henna Heals has volunteered its services at marquee events such as International Women's Day and Danforth Collegiate's Cuts for Cancer charity shearing campaign, which drew attention from the CBC.
And then there was Darwin's way-smart -- and ultimately winning -- entry into the international Secret 7" contest.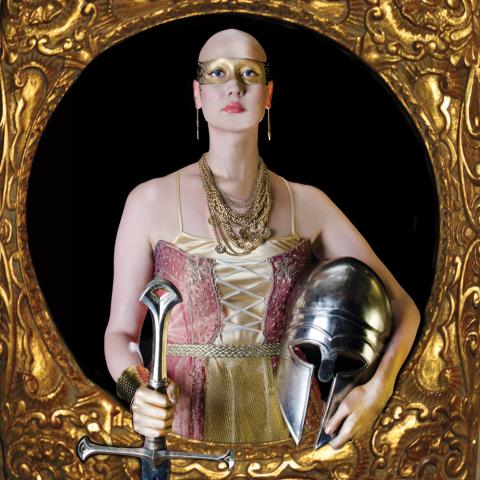 "I am a huge Florence + the Machine fan," Darwin explains.  "A few months ago, their fan newsletter announced a contest called Secret 7" which invited artists from all over the world to submit a 7" piece of artwork that would be chosen by Florence to be used as a limited edition vinyl cover for the single 'Only if for a Night.'  The chosen designs would then be exhibited and sold to raise money for the Teenage Cancer Trust. 
"So my three biggest passions: photography, empowering cancer patients, and Florence + the Machine, culminated into this incredible opportunity. My design, which was titled 'The Warrior' and which was inspired both by Florence videos and the Gustav Klimt painting 'Pallas Athene' from 1898 [and which depicts a bald woman looking like the most badass babe on the block] was chosen as one of 50 out of over 1,000 submissions.
"It was exhibited with 699 other unique 7" vinyls that were inspired by singles from other collaborating musicians such as The Cure, Bombay Bicycle Club, DJ Shadow, Noah & The Whale and Ben Howard.  Several famous artists -- and even the musicians themselves -- also had hand-crafted limited-edition vinyl designs exhibited."
She continues: "The exhibition culminated April 21 as part of Record Store Day, where all the album covers were sold, with every penny going to the Teenage Cancer Trust which, by the way, everyone should actively support."
While Darwin was unable to confirm the final tally raised during the Record Store Day sales, additional funds were generated through eBay auctions of any remaining unsold sleeve art; those funds were also directed to Teenage Cancer Trust.
"The cost of henna crowns depend on the design, but generally they cost $100 and a small travel fee for the artist to get to the client's home. It's a beautiful gift for family members or friends to give as their loved one as a gift.  We also put 10 percent of henna crown profits into a fund to assist people who would like a henna crown but can't afford it."
Darwin is looking to expand Henna Heals globally, but until then cautions people to find reputable international artists who use 100 percent natural, home-made henna paste. She is currently compiling a list.
She warns that some ignorant or unethical artists will use pre-made henna paste, also known as "black henna," which can contain preservatives, as well as potentially harmful ingredients like para-phenylenediamine (PPD), which, according to the Health Canada website, can cause allergies and scarring. "Some 'black henna' even contains benzene, which is known to be carcinogenic," Darwin adds. "It is, therefore, very important that if a person is looking for a henna artist, that they find someone they can trust.
"For cancer patients, the henna crowns really are a healing experience," Darwin adds. "This is all about them reclaiming a part of themselves that would normally be perceived as ill or damaged or not nice to look at and making it more feminine and beautiful."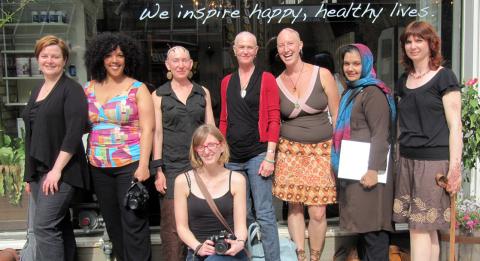 Girls Air Jordan